Is Photography a Good Career Option?
Created: Oct 31, 2020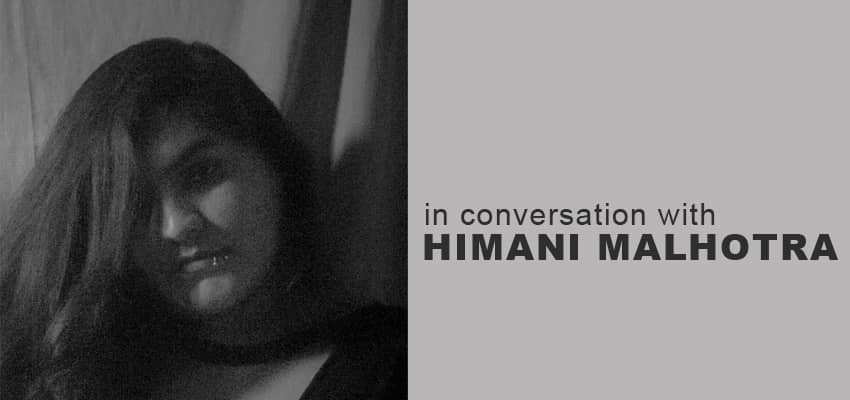 About Himani: Himani Malhotra is an Architect and a Photographer. She likes to play with colours, themes, moodboards and lights, trying to capture the beautiful utopia in her head. She likes to focus on femininity with the power of skin in the patriarchal fabric of this society, especially in a place like India. She tries to render ideas onto photos, viewing with big neon colored glasses with a touch of 80's synthwave outlook.
Excerpts from the interview:
Q1. Himani, you studied Architecture but found your true calling in Photography. Tell us the full story.
Himani: As a 7 year old kid, I would build a make-believe house under kitchen platforms, tables so other kids would play with me. I'd go to my relative's place and organize, decorate their rooms with the things available in the proximity. I would often stare at the production and lighting in movies, observe how objects appeared in the frame, this all helped me form a beautiful utopia in my head about how spaces and things should look like. I studied architecture and interiors, but the lure of shooting a space and playing with the lights gave me an instant high. So, I decided to try my hand at photography.
Q2. You never studied Photography formally, what challenges did you face when you were a fresher in the industry?
Himani: I started getting photography projects while I was interning at design firms. I said yes to all as I wanted to explore the field and take it full time in future. I invested my time and efforts to self-learn the process. I never formally trained in photography but my education in architecture and design helped me understand the field better. Photography is an expensive discipline, for initial projects I would always rent a camera.
While working on my projects, I was able to save a bit and got my first camera only after 2 years of working in the industry.
The biggest challenge I faced initially was working with the male team members. When I used to hire a team for a project, it generally constituted of all male staff and they were not comfortable taking directions or orders from a female, that is me. But, now this problem doesn't exist and working with male members has become normal. Now I have started to work with both men and women.
Q3. Being an Architect, how does it help you with your work today.
Himani: When I started working on photography and directing videos commercially, my main focus was always on color theories and creating moods. My motive was to understand the human eye, which color is perceived to which emotion to understand the play of lights and forms. My understanding of light and shadow during my architecture studies helped me immensely to explore this interest of mine.
Q4. When you take on a new project, how do you plan for the shoot & what exactly goes on in your mind. Give us a sneak peak.
Himani: I get to work on a varied set of projects. The most interesting ones are where I get to play with lights, colors & luminance of the mood. Also design the space if it is required to make the model, muse feel comfortable in their skin as they play a major role in how the outcome will look like. The planning involves figuring a sort of moodboard for the shoot, with the location, lights, available clothes and the models.
For other commercial shoots where I have to direct an event coverage, we plan the lights to go with the surroundings, constantly move them so we get a well lit coverage for the subject & the people involved in it. We plan ahead with the lights and how to shoot with specific angles.
Q5. What type of work excites you?
Himani: The work where I create a look, mood for the shoot myself with lighting, clothing & add the organic feel to it by involving the muse as much as they like. Harmonizing the shoot with available things in the proximity of the location.
Q6. How do you think the world of Photography has changed from the times of "Kodak Rolls to Digicams" today?
Himani: It is much easier now to actually make something that you imagine. It is easier to play with things now, editing has changed a lot of things. Earlier developing took days, but the digitalization of the editing process has revolutionized the industry and still evolving each day. We are fortunate to take our cameras anywhere and come back with memories, this is a blessing for the mankind that it's super easy to document something.
Q7. Parents still feel that "Photography is not a financially secure" career option in today's times. What is your take on it?
Himani: It takes time to establish yourself in any field. For example, an architect also takes time to get the grip of the market, this happens with every industry. Investing in photography, upgrading it with time and then refining your skills with each project takes time. It may or may not be a lucrative career option for you, there is no knowing until you give it a try. Especially now when everything is digital, documenting seems to be very important, even in a layman's life. It is no longer a luxury but a necessity in the age of social media.
Q8. What message do you have for candidates who wish to take Photography as a career choice?
Himani: Take your sweet time before you start shooting professionally for people, cause that time helps you define who you want to be, what you want to shoot, what gives you satisfaction and what brings out creativity in you.
And then start investing in making a portfolio, which you can keep on upgrading with new projects.
Back
---
Related Posts
---
Comments ( 0 )
Post comment
Login to create a comment