How fruitful is a career in Architectural Conservation?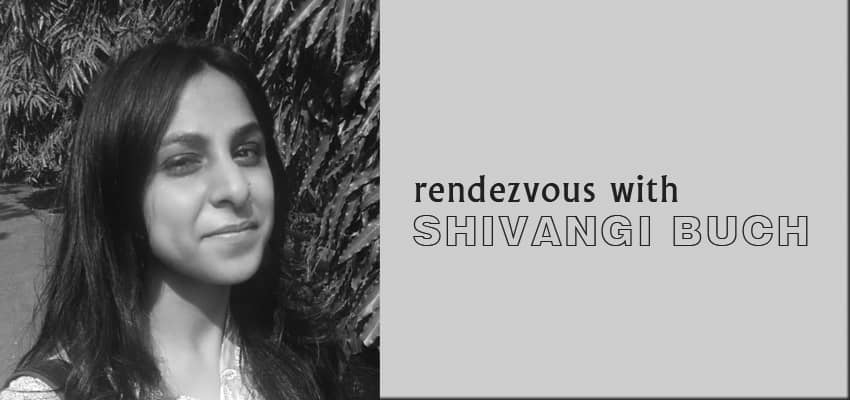 About Shivangi Buch: Shivangi completed her B.Arch from CEPT Ahmedabad. Her interests lie towards traditional vernacular built environments. She has worked on a number of architecture and interior projects. She has pursued a short course on 'Indian Aesthetics' which helped her understand the vast history of the Indian subcontinent. After working at the Mehrangarh Fort, she formally studied MSc Architectural Conservation from The University of Edinburgh, UK. Shivangi is an aspiring Design Entrepreneur working to combine Indian crafts and spaces.
INTERVIEW WITH SHIVANGI BUCH
Q1. Hi Shivangi, you have done your Masters in Architectural Conservation, tell us more about your field of specialization.
Shivangi: Architectural Conservation is a specific field branching from architecture which focuses on the historic built forms, its environmental solutions, streetscapes, adaptive reuse of a heritage building and related disciplines. Especially in present times when everything is pushed to become global, it becomes important to hold on to the roots, to the culturally important traditions and to be able to relate to them.
Q2. Architectural Conservation is a very niche field with not many takers, why did you choose to specialize in it.
Shivangi: My personal interest lies in adaptive reuse (since I have basic spatial knowledge) and refurbishment of old structures and adapt it to a new setting. It's a sustainable and viable option. When there are enough downtrodden empty buildings waiting to be discovered, what is the need to build new structures. If this trend continues, we aren't away from a time when the planet will be cluttered with concrete jungle. Slow design is not only economical, sustainable but also more contextually and culturally relevant. It is not a very popular field in terms of work being done and also a relatively new field in the country.
Q3. As part of your internships and jobs, you've travelled across the country, to places like Sikkim, Kerala and Mehrangarh Fort in Jodhpur. Tell us about your experiences at these places and what were your key learnings as an Architect.
Shivangi: I think travelling is the best form of learning for an architect. What you see, your reflections and enriched discussions become your instruments of learning. As part of my academic commitments, I travelled to geographically and culturally very different regions: Sikkim is a mountainous region, food, culture, people, dwellings and thus attitudes are very different from where I come from. It was a mind opening experience. You learn to see things differently. You have some preconceived notions in your mind and when you see a different culture, you realize that context becomes so important when you address a built form. Similarly, when I went to study temple spaces of Kerela for my dissertation topic, I realized that the form, expression and language derived from what is most available in abundance around. Like the easy availibility of wood and laterite in Kerela has resulted in most temples made by both these materials. The spatial arrangement is very similar to North Indian temples, yet they look completely different. This discussion is endless and I can go on and on. But the point is it's important to reflect upon what you see. And that attitude of curiosity needs to be cultivated in order to learn and grow.
Q4. We've heard, you wish to do something in the field of Indian textiles and crafts. Why this shift from Monuments to Textiles.
Shivangi: Actually, there is no shift. It might seem like that, because of the scale of work, but it is just an effort to merge buildings and textile crafts because essentially design is one large umbrella. I do not encourage categorization. It weakens the scope of a certain field. I would like to mention this beautiful project by Marie Anne Oudejans called Bar Palladio in Jaipur. I would like to say, that's the visual of my idea regarding textiles and spaces.
Q5. Finally Shivangi, What message would you like to give to our readers, most of them being Architecture Aspirants.
Shivangi: As I'd like to believe, Architecture is one field which will open your mind, make you learn how to think and will require you to have real time knowledge about almost anything and everything in the world. You always need to keep a tab on what is happening around you, but that's the beauty of it.
Back
---
Related Posts
---
Comments ( 0 )
Post comment
Login to create a comment