Did not make it to NID? No need to Worry, its not end of the road
Created on: Sep 19, 2020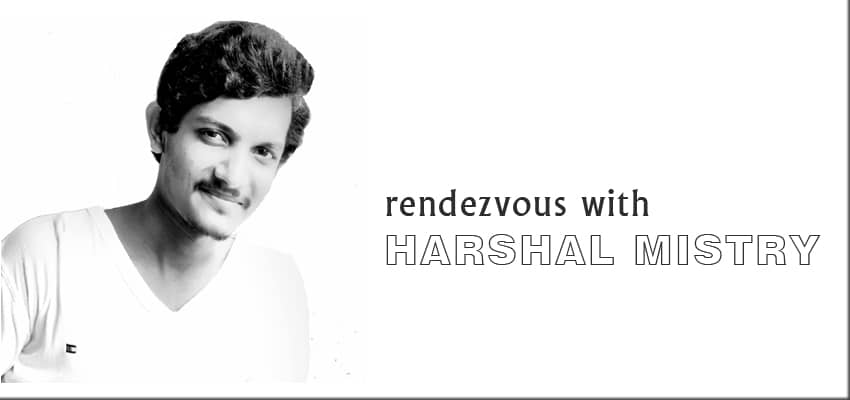 ABOUT HARSHAL: Harshal is an Interior Designer, Educator and Graphic Designer from Mumbai. Currently he works with 'UPCYCLE STUDIO' in Auroville. Harshal also loves to teach and conduct creative workshops in Interior Design Colleges across India.
Excerpts from the interview:
Q1. As a student, you were never interested in academics, but loved the technical lab. Tell us more about it.
Harshal: I never liked academics. School and studies never appealed to me. The only thing I loved about school was the 'Break Time' as I was 'FREE" to do what I wanted. I loved to explore: the library, science labs, technical labs and the playing ground. My father is an aluminum window contractor: He's my first and only superhero. I have grown-up seeing him working with amazing tools and materials. So, I also developed a very close connection with tools and materials. The moment I stepped in the technical lab in school, the whole world changed for me, it was an incredible experience. I was a superhero there and all the tools were my sophisticated gadgets. I loved the technical lab and never wanted to leave the place.
More to Explore...
Q2. You studied Interior Design and were quite successful with it. Give us the details.
Harshal: As I was having a strong technical background it was easy for me to pursue design. It's not necessary for every interior designer to be technically strong, but it surely helps. While I was pursuing my Bachelors, I was quite lucky to get opportunities, and I can only thank my mentors for them. In the first year I received a chance to intern with JLL(Jones Lang Lasalle),the internship helped me develop confidence, software skills and time management. From second year I stared freelancing, my clients trusted me and designing was fun for me. While doing so, I never bunked or skipped a single lecture of my curriculum. While site experience was giving me practical knowledge, my fundamentals got strong only because of my mentors. After completing my B.Sc. in Interior Design I worked with many established Designers as an assistant designer, junior designer, senior designer and furniture designer.
Q3. You also got selected in National Institute of Design, Ahmedabad but could not pursue the course. What happened?
Harshal: I was doing well in the field of design, but never wanted to stop the learning process. I was fascinated with the world of design and wanted to explore more. After completing my Bachelor's in Design, I wanted to purse my Masters from a Foreign University. But finance was an issue as I come from a middle-class family. Still I applied for education loan in nearly all the banks, but never received one. This process to arrange for my fees continued for 2 long years, but I never gave up. I convinced myself that it doesn't matter if I cannot go abroad for my Masters, I'll try to get admission in the best design college in India, that is NID. In order to pursue Masters from NID, one has to clear 2 rounds of examination. The entrance preparation and examination was a year long process, and competition was tough for the 15 seats available. I took coaching from one of the best design coaching centers of Ahmedabad and guess what, I cleared all the rounds and was ranked 6th in second merit list. The preparation wasn't easy, I worked DAY & NIGHT for the examination. But, this time also, despite all efforts, could not arrange for the finances. Time period to pay fees was very short and I couldn't arrange the required money. I did not want to burden my family, so never went to NID.
Q4. You are doing some interesting work in Auroville. Tell us about it.
Harshal: I believe, I could not do my Masters from abroad, nor could I purse post graduate course from NID, because destiny had planned something special for me. In Auroville I work under the guidance of Sir Marc Barandard, a great upcyclist. Because of him, I have got direction in my life. In Auroville we upcycle materials rather than recycling them. There is a big difference between Recycling and Upcycling. If you recycle something you would get product of same or lower value but if you Upcycle it you would always get a product of higher value, hence named "Upcycle". We work on three principles : Think LOCAL(Never purchase material, work with what is locally available), USE PREMIUM WASTE (If you segregate your waste, its clean and can be used for upcycling) and OPEN SOURCE AND FREE DESIGN (there is no copyright, if you love my design you can copy it, because ultimately it is cleaning our environment) AUROVILLE IS AMAZING AND ITS A FANTASY LAND for me.
Q5. What is your message to young design aspirants?
Harshal: My Message:
Never stop Dreaming. Always dream BIG.
Do what you love, love what you do.
Never give up and always stay positive, if things don't happen according to your plan then trust me GOD/UNIVERSE/DESTINY has a better plan for you.
Always "RESPECT" from whom you learn and be grateful to them.
In order to be a GOOD designer,keep your fundamentals strong.
Mosaic: We wish Harshal, the very best for his future. Despite facing the odds, he followed his passion to achieve success. We hope, his story continues to inspire the readers.
Back
---
Related Posts
---
Comments ( 0 )
Post comment
Login to create a comment