Potential of Indian handicrafts in Contemporary Times
Created on: Sep 26, 2020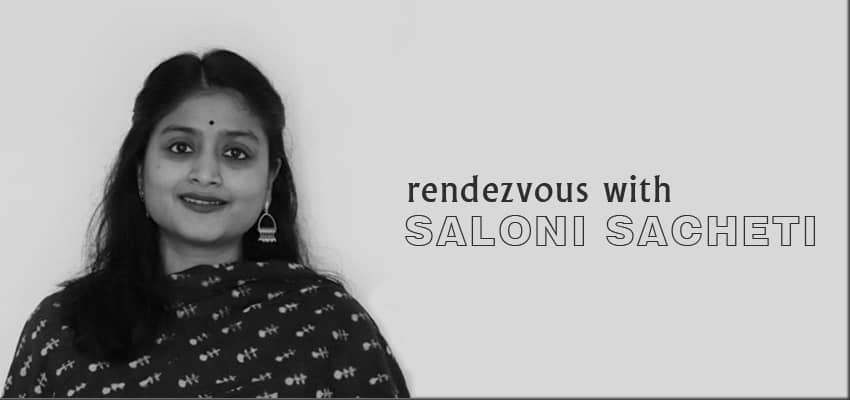 ABOUT SALONI: Saloni is a lawyer turned social entrepreneur. She did her graduation from Delhi University and LL.B. from Banaras Hindu University. Later she joined SBI youth for India fellowship where she spent 13 months in the rural area of Dangs and started Baansuli. She has won 3M CII Young innovator challenge Award under Rural Category in 2018 and Best Start up award under sustainable livelihood category by Ministry of Rural Development and NIRD Hyderabad in 2019. She was also at top 18 Social Innovator at NSCI PIC in 2018. Saloni loves to meet new people and is a keen learner. Her desire and aspiration to do something for the community at large has given her the courage to break the stereotype rules, which even led her to change her career.
Q1. How did Baansuli happen? Tell us the full story.
Saloni: Baansuli is a social enterprise which economically empowers the group of tribal artisans making handcrafted contemporary bamboo jewellery in the District of Dangs, Gujarat. Baansuli was founded as a project by me during my SBI Youth for India Fellowship with the support from SBI Youth for India and DHRUVA-BAIF, which later in 2019 took a shape of social enterprise. Dangs is situated in the south part of Gujarat with abundance of bamboo. According to NITI Aayog, Dang is one of the most economically distressed districts, out of 640 districts in India. Around 98% of the population is tribal and major source of income is agriculture. Apart from agriculture, people were also doing a lot of manual labour like 'MNREGA' or which is given by Government agencies. But due to its hilly terrain, Dangs faces water scarcity post-monsoon, which discourages all cultivation practices. As a result, Dangs observes seasonal migration of cultivators and agriculture labourers for manual labour to the nearest cities. As per the District census 2011, the total population of the district is 2,28,291. About 88.83% population is dependent on agriculture, where an average of 49.35 % follows seasonal migration. The major issue in the district is lack of continuous source of income generation. As mentioned bamboo is in abundance in Dangs, so a lot of people were already making bamboo artefacts. When I went there through my fellowship, I saw the condition of the people, which made me understand the problem and how we can solve it. So, I thought of making something unique which can also be a source of livelihood to the tribals. That's how the idea of bamboo jewellery came in and that's how Baansuli was born.
More to Explore...
More on Baansuli:
Baansuli was born with an aim of giving the tribals of Dangs a regular source of income and stop seasonal migration by providing them livelihood opportunities. As mentioned, people of Dangs are well versed with bamboo and the crafting techniques. They were already making bamboo baskets for their own household use. In few villages, artefacts were also produced, but these goods were less durable and untreated. When I visited this place, people were living in high poverty with no regular source of income. They were highly dependent on government related work like building toilets and roads etc. They were sleeping on the floors of their kucha houses. The plight of the tribals moved me. I decided to work for the community and build a healthy financial ecosystem for the people of Dangs. I wanted to make an organisation which caters to the urban market, where the actual value of handicrafts is understood. So, we thought of making contemporary Bamboo jewellry as a mainstream lifestyle accessory for the urban market.
Q2. Bamboo Jewellery was already being manufactured when you started. What made Baansuli stand out?
Saloni: As mentioned Dangs is rich in bamboo and people were already making household items or artefacts from bamboo. After gauging things that can be made from bamboo, we thought of bamboo jewellery to be the most beneficial product. Bamboo jewellery is not new in India, as it was already produced in the North Eastern states. We thought of making it contemporary and something that has a USP. Our bamboo earrings are handcrafted from locally sourced variety of Manvel bamboo in Dangs. All jewellery items undergo quality check for appearance after wash and color fastness. The bamboo used for the purpose undergoes chemical preservation treatment for durability and protection against organic decay. The bamboo is treated with Alum and then sun dried. For finishing, three different types of sand paper are used and then finally varnish is applied to protect them from decay.
The aim is to create authentic and contemporary designs. These intricately designed handcrafted earrings are extremely light weight and affordable. The uniqueness of our designs, high quality and fineness of the produce are the specialization of our artisans. Using techniques like blue lamp, splitting, quilling and weaving makes the jewellery stand out. The combinations of above-mentioned techniques with semi-precious stones, beads, german silver, tussles etc makes them contemporary and trendy. We source german silver from Rajasthan and semi-precious other elements from Delhi and Jaipur.
Baansuli has a wide range of beautiful authentic and contemporary neckpieces, earrings, bracelets etc. The USP lies in its durability, light weight, finishing and contemporary design which severs both Western and Indian outfits.
Bamboo is super light in weight so the problem of wearing heavy earrings are solved through this. Our jewellery (without german silver ) weighs of 3-20 gms only.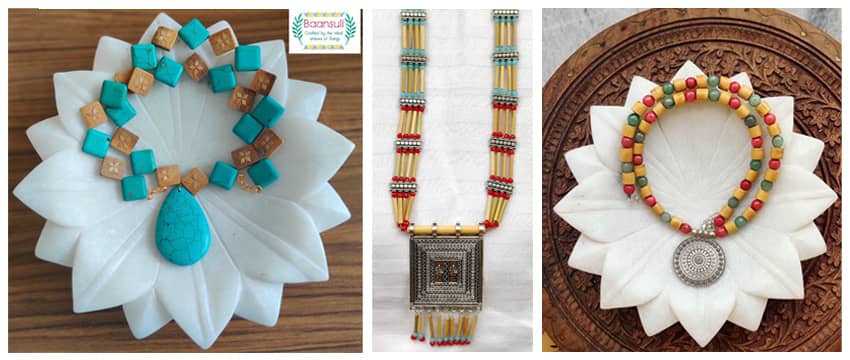 For our B2C customers we provide them with a two-fold story card which talks about our organisation, our cause, our artisans and our jewellery. We also provide a handmade reusable box along with our products. Along with our products we pen down a handwritten note to all our customers acknowledging their support for buying from Baansuli. For studs and danglers, we have around 150 designs and for choker and neckpieces we have 45 designs. The range for the neckpieces start from Rs. 550 and goes upto Rs. 2500 and for earrings it starts from Rs. 100 and goes upto Rs. 350. Our latest collection is inspired from Palaces of Jaipur and Agra. We went there to study the motifs and the colour scheme.
Q3. Saloni, you are not a trained Jewellery Designer, did you face any challenges in designing & production of Bamboo Jewellery in the initial days.
Saloni: Though I am not a trained designer but I have always been a jewellery lover. And I think the love of jewellery is what inspires me to work on new designs. But I would not deny, that technical knowledge always helps you design better. From the beginning till now we have been designing on our own. We work together as a team. Initial designs are done by me. Each team member then contributes to the final version. We seek inputs from all the artisans.
Bamboo itself was very new to me as a substance/element and making jewellery out of it was a big challenge. I saw various videos to learn basics about the material itself, and its various properties. Also how various techniques can be used and how it can be moulded. Learnt about the trending designs and finally made a catalogue of initial designs.

Q4. Baansuli sounds quite unique. What does it mean?
Saloni: BAANSULI – Bamboo Artisan Socio Economic Upliftment Initiative (Baansuli), it is also an acronym of two words i.e. Baans which means "Bamboo"and Hansuli is "A jewellery pattern", so Baansuli is a jewellery made from Bamboo. So, it talks about the product and also the reason behind making this product.
Q5. You studied law, got a job and then left it to pursue something meaningful. What gave you courage and conviction to follow your heart?
Saloni: While sitting in my cubicle of a law firm I used to ask myself whether "I am doing something meaningful with my life". As a responsible adult I used to think about rural India, its problem and also the probable solutions. From my childhood I was very much interested in "women empowerment and financial empowerment". Finally, one fine day I left my advocacy job and started looking for jobs in development and social sector. I found about the fellowship and the zeal of working for the rural community gave me the courage.
Q6. You are from a small town in Rajasthan: did you face any resistance from family and relatives, when you decided to work with the tribals in Dang, Gujarat.
Saloni: My parents always knew that I was a rebellious child. I am born into Marwari Jain family in Alwar, Rajasthan. Did my schooling from Rajasthan and then went to Delhi to do my graduation. I Did B.A Hons philosophy from Indraprastha College for Women, Delhi University. I was 1st female in my house to study in Delhi or anywhere outside my hometown. After my graduation I went to Banaras Hindu university to purse LL.B. and that makes me 1st generation lawyer. After the graduation I was placed in a law firm which was dealing in electricity laws. I received family resistance the moment my parents sent me to Delhi for my education. But thankfully my parents had trust in me and in my dreams. After working 2 years in the law firm, without telling my family I applied for SBI Youth for India Fellowship and got a call for the interview.
I got selected but was scared to tell my parents, fiancée and my in-laws. But all went well and everyone was supportive.

Q7. What was your experience to work with the tribals? Please share.
Saloni: In the past, I had already worked with such organisations in Rajasthan which deal with tribal laws and work in tribal and rural areas. When I went to Dangs, it was a very different experience: new place, new culture, new language. But with my work experience with rural communities, it was a little easier for me to interact with them. The main problem with Tribals was their mindset and lack for market exposure. They did not had any vision for future or savings for the future.
I used to live in a tin shed house, 15 kms away from the actual place of work. I started with community meetings, told them about advantages of being a part of Baansuli and importance of regular income. After the meeting, 5 artisans joined me and that's how we started. After working with Baansuli, the tribals are now financially better off: they have started saving for their kids' education, built pucca houses, bought two wheelers, and other items like furniture, electronics and smart phones.
One of our artisans, who had a Diamond Polisher job in Surat, left his job to join Baansuli to stay in the village with his family. The women in the group now contribute towards their household expense and also save for their kids' education.
Q8. Baansuli is a successful venture. What plans do you have for the future?
Saloni: We don't consider ourselves successful until we reach our goals. We want to have bigger impact, and for that we are expanding the product range by incorporating Anklets, Rakhis, Hot plates, Coasters etc. Also, we are trying to get other artisans of the village on board. Our future plan is to adopt the entire village and start a crèche.
Q9. What message do you want to give to the aspiring designers, who want to make it big in the field of design.
Saloni: Just follow your passion. To design, you can take inspiration from even little things around you. Love what you are doing, otherwise find what you love. You don't need to be the best, just be loyal, dedicated, creative and honest to your work. Then you will surely rise in your own eyes and the rest of the world.
Back
---
Related Posts
---
Comments ( 0 )
Post comment
Login to create a comment