How Shivangi Setia made a successful career in Fashion Design?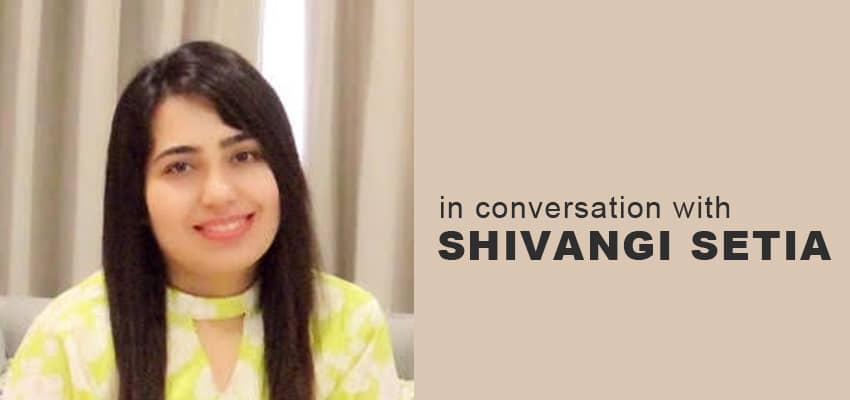 About Shivangi: Shivangi Setia is the founder of Ripochia Design House. She is an entrepreneur out of her love for design & fashion. She holds a graduate degree in economics from Miranda House (DU), is an MBA in Finance, an alumni of Pearl Academy and a CS in making. Shivangi has a work experience with Goldman Sachs and Ernst & Young & NBFCs. She loves spending time reading, capturing nature through her camera lens and practicing yoga. She feels all these years have been a roller coaster ride with an immense amount of learning. The zeal to learn & explore new avenues & appreciating the beauty of design & culture led her to where she is today.
Excerpts from the interview:
Q 1. Shivangi, you did your MBA in Finance, but chose to practice design. What's the reason for such a drastic career shift?
Shivangi: Being from a finance family background, it was the conventional route to be taken. Though I always appreciated creative designs & had an eye for beautiful things, pursuing design as a career, a decade ago was an unconventional route with a lot of risks involved. But after so many years of studying and working in the corporate world, I found satisfaction only in pursuing my passion which led to having my own start-up.
Q 2. What led to the origin of your start-up venture?
Shivangi: I have had the idea building up in my mind over the years, conceptualising, refining over what more could I bring to the table. I love being updated with the fashion industry. Post quitting my work with Goldman Sachs, I went back to working with my father & had more time to bring the idea to life. Started slow with one step at a time, learning in the process and eventually Ripochia came to life.
Q 3. Tell us more about "Ripochia Design House"
Shivangi: We aim to take Indian craftsmanship global. Based out of Jaipur, Rajasthan, we want to focus on achieving the appreciation for the Indian art & culture by bringing creative ideas to life in the form of women's apparels, statement jewellery collection, clutches & home furnishing line. Our vision is to become a one stop destination for all things luxury under one roof.
Q 4. You initially faced resistance from your family. Are they more supportive now?
Shivangi: Creative fields are always difficult to pursue. Initially I also faced resistance from family, but when they saw me put my heart and soul into it, their outlook changed. The satisfaction of pursuing what you love eventually convinces everyone around you to believe in your vision. And to answer your question, they are very supportive now.
Q 5. What message do you have for the youth who are aspiring to be designers of tomorrow?
Shivangi: Recognise you USP in the field of design. Learn & grow with the help of your peer group by creating a community by supporting each other. Find the need of the hour, & the gap your skills can fulfil. Read & research regularly, take it all in. Enjoy every step of the learning process. Take the unconventional route. Start from the scratch. Everything around us is inspiring. Take risks and aspire to create something phenomenal.
Q 6. If you are offered to trade your dream venture for a financially secure future, what will you choose.
Shivangi: Definitely my dream venture. Despite working for the best companies, I was never satisfied and always felt a void inside. It only got filled when I took up my passion as a career. Creative fields are always more challenging, but you achieve immense satisfaction by creating your vision & achieving great heights.
Back
---
Related Posts
---
Comments ( 0 )
Post comment
Login to create a comment