What is the scope of Fashion Merchandising?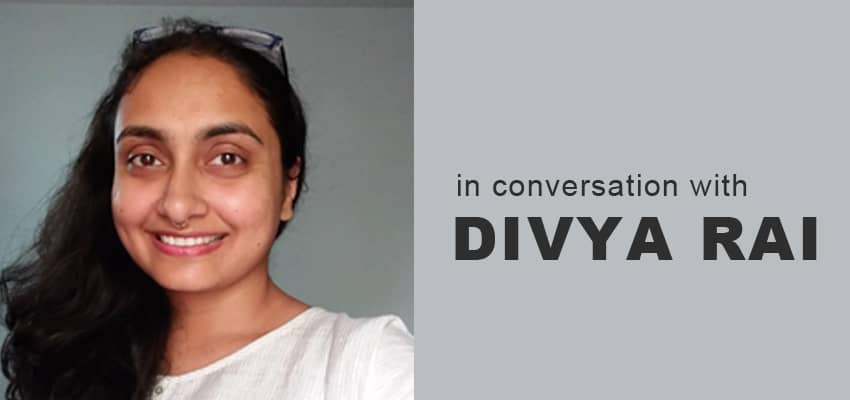 About Divya: Divya Rai, after putting the 'pro' in procrastination, is busy clicking her way to happiness and success. She may, at times, claim to love the power of written words the most, but in reality, it is her cat Coco, who means the world to her.
Q 1. Divya, you've studied Fashion Merchandising & Production Management, please explain which subjects are included in this discipline.

Divya: Fashion Merchandising & Production management is purely a 'Business' Course, and should not be confused with a 'Design' Course. The subjects include: Fashion Forecasting, Fabric Study, Production, Merchandising, Financial Management, International Trade, Human Resource Management, Pattern Making & Garment Construction, Fashion Retail, Weaving & Knitting, Communication etc.
Q 2. Tell us in detail about your journey in the industry.
Divya: I graduated in 2006. Worked as a Production Coordinator (Outsource) with Uni Style Image for some time. By 2008, I got frustrated with how limited the scope of my talent at my 9-5 role was, and hence I started a store named 'Just Around The Corner' in Delhi's famed fashion village called Shahpur Jat. The store was based on a passion-project I had conceptualized on paper during the 5th semester of my college. I like working out need-gaps, and conceptualizing & strategizing business-plans as hobby. I do that even till date. First three years of the business were rough. VERY rough. This was also the time that was responsible for most of my learning about 'Entrepreneurship'. I lived alone in Delhi, and at 22 years of age, my hands were full with all the good kind of pain, which has had brilliant Return on Investment. Just Around The Corner was themed on funky clothing, knick-knacks and accessories, and by the 3rd year, the store did well-enough that I opened a kiosk in DLF Place Mall, Saket.
In 2012, due to some personal reasons, I decided to take a break. I used that break to study Photography, travel, and write. Serendipitously, I got to pursue all three as professions simultaneously. While exploring the scope of 'writing', I got to work with Hindustan Times, Tourism Boards, and travel-based entities.
In 2017, I chanced upon Copywriting as one of the founders of Happily Unmarried, who was on my contact-list on FB, offered me a project with the brand. Very reluctantly, I took it up, and I am so thankful that I did. I have been in love Content Strategy and Copywriting since then.
Q 3. What does "A day in the life of a copywriter" look like?

Divya: This is roughly how a day in the life of Copywriter is likely to go:

10:30 am - Report at work. Reply to urgent emails.
11:00 am - Plan out your day, work-out the order of importance for your regular as well as special tasks for the day.
11:30 am - Get in touch with the team you are writing the copy for (whether it is for the website, marketing, social media or an offline medium).
12:30 pm - Brainstorm with the team, write the copies and submit the first draft to the person you report to.
12:30-12:45 pm - Take a break.
12:00-1:30 pm - Line up your post-lunch deadlines in the order of importance.
1:30-2:00 pm - Use this time to take your mind off work, while you have lunch. Creative process, if done in continuation, can cause a burnout.
2:00-3:30 pm - Reply to your emails, and write copies for other tasks. Get feedback and approval, and submit it to the Design Team.
3:30-4:00 pm - Meet with your boss, and get clarity on what needs to be done by the EOD, and what will get spilled over to the next day. Also, update him/her on the status of each task.
4:00-4:15 pm - Take a break.
4:15-6:00 pm - Write all the copies needed by the EOD. Take feedback/approval, and submit it to the concerned team/person.
6:00-6:30 pm - Plan your next day.
6:30 pm - Leave work if all the deadlines for the day are met.
Q 4. What is the one thing that excites/inspires you about your work.
Divya: There isn't one thing, but a combination of several things. Experiments, analytics, feedbacks, process, market-response and people who are willing to try out new ideas.
Q 5. What message you have for the aspiring students. With what mindset should they enter the industry.
Divya: Please enter the industry, any industry, only if you don't mind working 24hours if the need for it arises. If you like to arrive on time and leave on time then the creative industry may not be for you. Fashion and Advertising are time-sensitive industries. Any creative field needs determination, self-motivation, hard-work and self-discipline. Please enter with the mindset to hustle for the first two decades.
Back
---
Related Posts
---
Comments ( 0 )
Post comment
Login to create a comment