Interview with Conservation Architect Krupa Rajangam
Created: Dec 9, 2020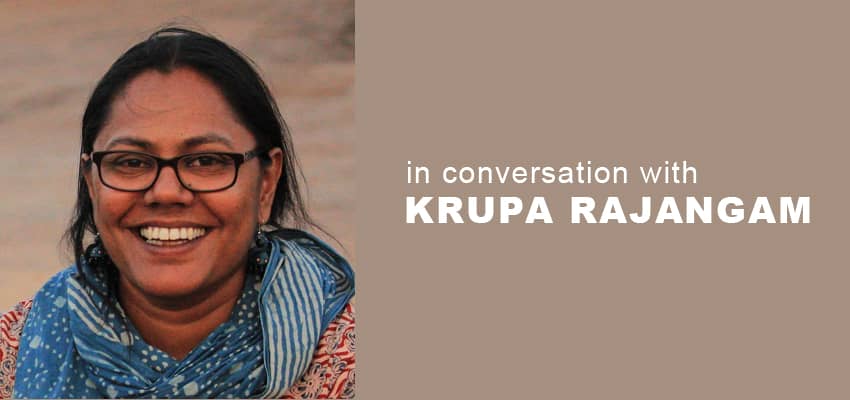 About Krupa: Krupa is a conservation architect-scholar with 20 years field-based conservation experience. Her doctoral thesis, from the National Institute of Advanced Studies, critically examines heritage conservation-management as a form of everyday governance. It is based on ethnographic engagement with Hampi World Heritage Site. She is Founder-Director of the Bangalore-based socially-engaged heritage collaborative Saythu that is led by conservation professionals. The group promotes conservation as an integrated inclusive social process, by bridging theory (academy), practice (field), and peoples' lived experiences, through various initiatives, projects, and teaching-learning engagements.
Excerpts from the interview:
Q1. Heritage Conservation and Management is a very niche domain. How did you got interested in this discipline. From where did you complete your studies. Tell us your complete story.
Krupa: I graduated in architecture from RV School of Architecture, Blr in 1999. Even during my undergraduate years I was one of a handful of students interested in architectural history, our past, and our common heritage. I was keen on pursuing a postgraduate degree in field archaeology when I heard about the University of York's programme from a colleague and wrote to them. The programme only accepted students with minimum 3 years work experience and so I started working in new build practice while also undertaking a few research initiatives related to heritage. I sent my application to York 4 years later and was selected for their postgraduate programme in Heritage Conservation. More recently I have just completed a doctoral degree in Heritage Conservation.
I remain interested in the past because historical structures and buildings offer us tantalising glimpses into what might have been. How we put together the story of the people who built and used these structures and why, is in our hands, in the present.
Q2. What is the meaning of 'Saythu' and what was your purpose when you started this initiative?
Krupa: Saythu means bridge. It is a Blr based socially engaged heritage collaborative. I started it with a few other colleagues because 10-12 years ago we were pretty much the only ones from our field promoting heritage conservation as a social process. Typically most people still see the discipline as nothing more than application of scientific skills and techniques to solve problems related to building restoration and repair. We agree that skills are a must but to us their application is only part of the conservation process. Our mission to promote conservation as a socially embedded process led us to set up our initiative to bridge people and heritage.
Q3. Heritage research, handling conservation projects and teaching initiatives….you are doing a lot many things. Which is the most gratifying and closest to your heart.
Krupa: Yes it is difficult to juggle teaching, consultancy, and research. However I find that each enriches the other. I am able to teach better as I apply the learnings from consultancy and research into it. Similarly I am able to undertake more informed research as I apply the learnings from consultancy or practice and teaching into it. Personally, for me, the most gratifying aspect is teaching. It feels good to see the sparks you have ignited in the minds of students take root and grow in different ways.
Q4. Being a female architect, did you face any challenges or discrimination in your initial days in the industry.
Krupa: There are challenges to being a woman professional in any domain. Most often the challenges are the result of people being uncomfortable over women in roles of authority. Considering the field of architecture, on-site personnel - more often the engineers and not the workforce - have problems in taking instructions from women. Most of the labour force is far quicker to accept women architects as they recognise skills and expertise irrespective of gender unlike many other colleagues and professionals. Such challenges remain, for they are part of a larger societal mind-set and not so easy to set aside or solve but the effort needs to be made by each of us. Interestingly I wrote a blog last year about how gender seems to play a role in deciding the career trajectories of not just women but also of men, within architecture. You can read it here.
Q5. When you get up in the morning, what is that one thing that excites you and fills you up with energy, to kickstart your day?
Krupa: The thought that this is another day with new opportunities for me to learn is what gets me up in the morning. The day I feel I have nothing to learn is a day I dread.
Q6. You are planning a venture in the field of cultural tourism. Tell us more about it.
Krupa: I am currently putting together a social impact venture that will reconnect groups and individuals with local histories and geographies. Based on my extensive field and research based experience I have realised that most often problems arise over heritage conservation because people think that heritage is only to do with the past - with ancient time. Some of us have long argued that heritage is equally about place, about geography, about the meanings that people ascribe to buildings, structures, and locations.
Q7. What is your advice to youngsters aspiring for a career in architecture?
Krupa: I have long told my students that architecture is one of few disciplines where the humanities, social sciences, and the sciences come together. As a result architects are among few professionals with multi-disciplinary broad-based training. Other fields are now beginning to recognise the advantages of such training by offering courses rooted in the humanities, design thinking and the like.
So I encourage students to maximise the opportunities they have for diverse learning - for it is already enabled by the architectural curriculum. Our education prepares us for many careers that are not limited to architecture alone. Make the most of it.
Back
---
Related Posts
---
Comments ( 0 )
Post comment
Login to create a comment