Interview with a NIFT Alumni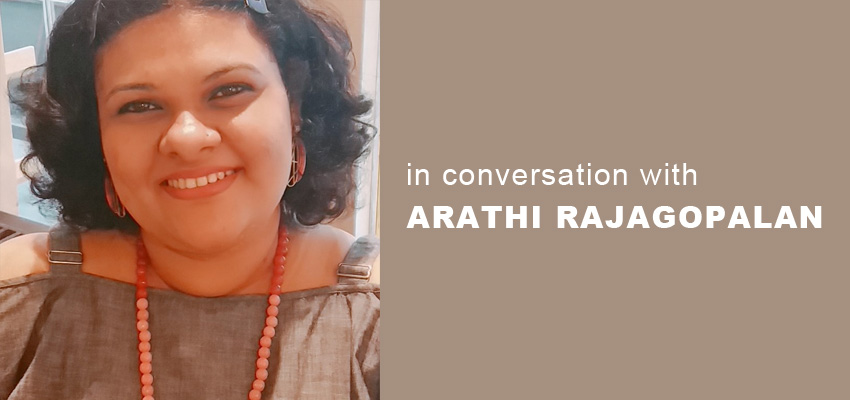 About Arathi: Arathi Rajagopalan is the founder & designer at House of Kalart. She is a graduate from NIFT & has done certification courses in jewellery making from SINGEM. She is a a self-taught abstract artist. Her experience in the International & Domestic Fashion/Retail industry and her fascination for jewellery & arts, led her to start her own label. She used to make mixed media jewellery for family, friends and TV / corporate commercials, which led to the start of House of Kalart (HoK) in 2018 & there has been no looking back.
House of Kalart Jewellery is for the free spirited woman who has got an avidity for life and believes that jewellery is an expression of her individuality. For her every day is an occasion to dress up and show up. She is elegance with no inhibitions. A premium art Jewellery label where contemporary representation of traditional artform is married with metalsmithing to create a well handcrafted fashion jewellery. HoK products, exhibit global aesthetics and traditional craftsmanship. Our philosophy is "Elegance and Playfulness can go together''.
Excerpts from the interview:
Q1. Arathi, you are a NIFT fashion graduate, but currently into designing jewellery. Why this transition?
Arathi: It is true that I did Fashion Designing & Information Technology (FDIT) at NIFT, however, since childhood, I had always been fascinated by arts, craft & jewellery. My inspiration was my aunt who would teach me different forms of crafts such as glass painting, origami, & embroidery during summer vacations. I can recall constantly doodling designs on my school books, and I developed an interest in jewellery during my study of fashion designing. This led me to combine two of my passions, art & jewellery and create a niche, by starting House of Kalart.
Q2. How your jewellery is different from what is available in the market.
Arathi: Jewellery is a unique, & distinguished product. Each jewellery piece or model is different. I truly believe that there is a story behind every person. Through House of Kalart, I get to reflect the essence behind the stories of each individual along with their nuances and depict them through my jewellery. Colours & Surface ornamentations are the foundation to my designing. I design premium jewellery where painting, drawing and embroidery is married with metalsmithing to create a well handcrafted art jewellery. Every colour, shape and texture of 'House of Kalart' jewellery tells the story of the person wearing it.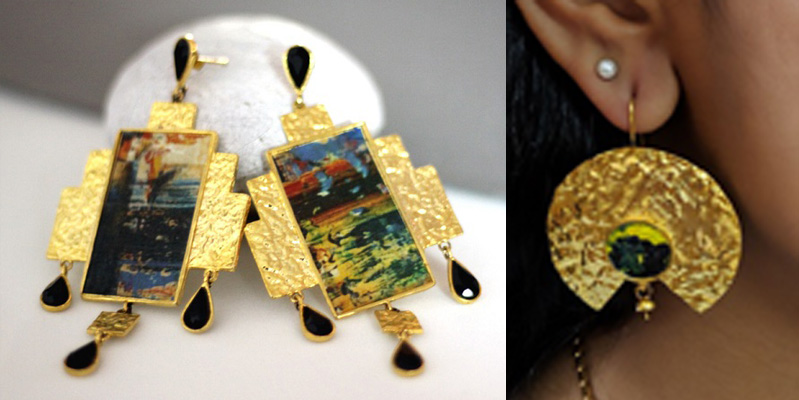 House of Kalart Jewellery
Q3. What is a typical working day in the "life of Arathi Rajagopalan"? Give us a sneak peak into how you design the jewellery and what goes behind bringing each piece to life.
Arathi: The best part of each day is the fact that every day is different, which is the reason why I love what I do. Some days it is running for supplies, fulfilling orders, responding to emails & messages, planning photo-shoots and a million other things. Other days will be more administrative like book keeping, managing the website, planning pop-ups or engagement events. Some days revolve around stories of clients, researching the stories of art forms, heritages and trying to tie it all up into a piece of jewellery. Like most creative people I hate to follow a routine, so the fact that my days are never exactly the same makes it interesting. Having said that one thing I do every day is to plan my next day the previous evening and I try to complete each of the tasks, however if not possible I make sure I strike-off at least 3-5 tasks from my list each day. Making a piece of jewellery or a painting is a way of expressing my soul through colours. Colours & textures not only inspire me, it also instigates a play of design in my head and to be able to actually touch, hold and add character to something that was just an idea is an immense joy.
Q4. Where do you see 'House of Kalart" 5 years from now?
Arathi: Five years from now, I would like to see someone wearing my jewellery everywhere I turn. I hope for House of Kalart to become a brand that is recognized & sought after worldwide.
Q5. Do you have a message for the young design aspirants?
Arathi: Design is a field where you can enjoy what you are doing, and get paid for it. First, embrace your journey as a designer not as a job, but as your identity. You are going to learn from everything you do, so it is ok if it doesn't go as you envisioned. The most important thing is to get out there, learn and continue to get better. Keep a positive attitude and listen to your peers and customers. Most important of all ''BELIEVE IN YOURSELF''.
Back
---
Related Posts
---
Comments ( 0 )
Post comment
Login to create a comment