Nata Aptitude Test Questions
In this article, we will focus on Nata Sample Questions based on the topic "Umaid Bhawan Palace in Jodhpur."
Ques 1. Who built Umaid Bhawan Palace?
Ans. It was built by Maharaja Sawai Jai Singh II. The Maharaja commissioned Henry Vaughan Lanchester as the architect of the royal residence.
Ques 2. Where is Umaid Bhawan Palace situated?
Ans. Situated on the Chittar Hill in Jodhpur Rajasthan, Umaid Bhawan Palace is one of the largest royal residences in the world. In 1971, the palace was divided into three parts: as the residence of the royal family, a museum showcasing the history of the royal Jodhpur family and a luxury hotel.
Ques 3. When was Umaid Bhawan Palace built?
Ans. Building work for the palace started in the year 1929 and completed in 1943.
Ques 4. Why was Umaid Bhawan Palace built?
Ans. The Palace was built for the sole purpose of providing employment to the famine – stricken people of Jodhpur. Made in an area of 26 acres, the palace employed around 2000 to 3000 people for its construction.
Ques 5. What is the material used in?
Ans. Umaid Bhawan Palace was built in golden – yellow sandstone.
More to Explore...
Did you know?
Umaid Bhawan Palace was built to provide employment to famine stricken people of Jodhpur.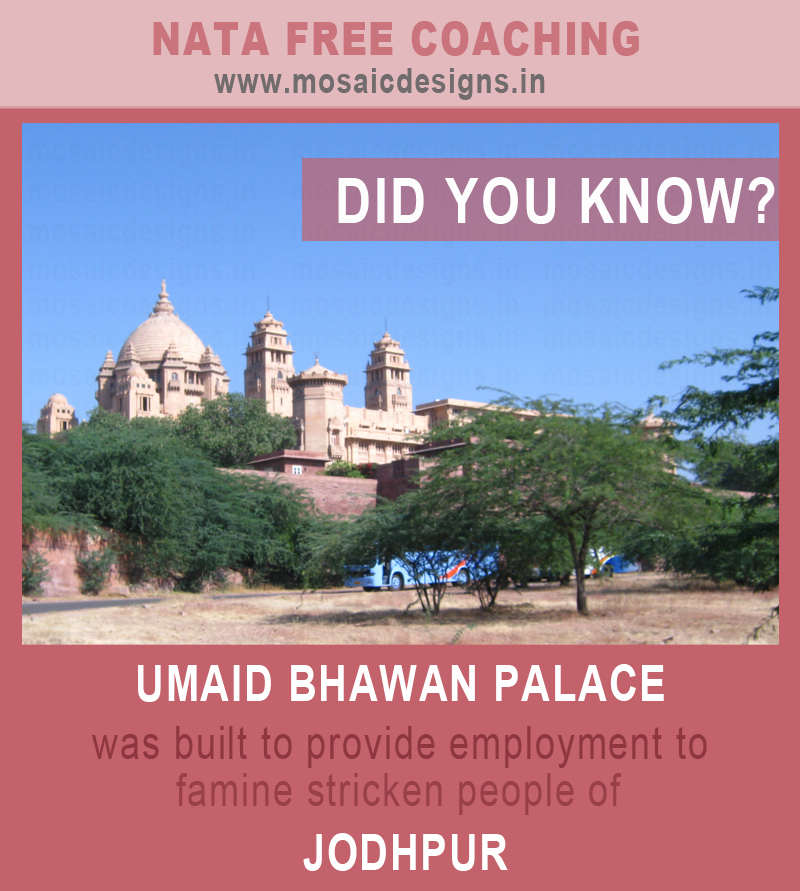 About the Author: Anu Handa is an Interior Designer, DIY Artist, Co-Founder and Educator at Mosaic Institute of Design. She has been the lead blogpost writer at www.mosaicdesigns.in since 2009. Her educational background in Interior Design, Urban Planning and the English Language has given her a broad base to cover a range of topics in her articles. Anu has spent 15+ years training Design & B.Arch Aspirants for entrance exams.
Passionate about Design Education, she's briefly worked with Annamalai University as a paper setter for Design Exams. Likes to write about Design, Architecture and related fields, on online platforms like Quora. Aims at challenging the conventional & age old teaching methodology.
Back
---
Related Posts
---
Comments ( 1 )
Post comment
Login to create a comment
I really wish there were more arlcites like this on the web.

By - Bettie