JEE Main paper 2: What are the changes in 2020?
The application form of JEE Main Paper 2 has been released by NTA for January session. Know the major changes.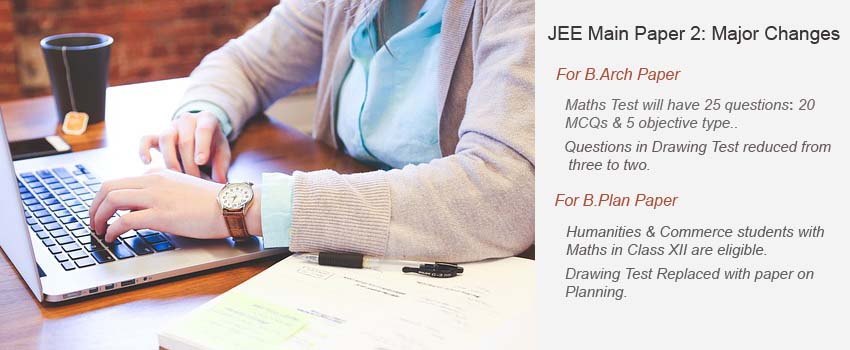 The Department of Higher Education, Ministry of Human Resource Development, Government of India has entrusted the responsibility of conducting Joint Entrance Examination, JEE (Main) to NTA from 2019 onwards. NTA will conduct the first edition of JEE Main 2020 from January 6 to January 11 and the second edition from April 3 to April 9. The registration for January exam starts from September 3, 2019. All the exams will be conducted in "Computer Based Test" (CBT) Mode except the Drawing Test for B.Arch which will be held as "Pen & Paper Based Test."
This year a number of changes have been introduced in the JEE Main Examination. Those pertaining to B.Arch and B.Plan paper are as follows:
For B.Arch Paper
1. Mathematics Paper will have 25 questions out of which 20 will be MCQ & 5 will be objective type.
2. Drawing Paper will have 2 questions instead of 3.
For B. Plan Paper
1. Students from Humanities and Commerce field with Mathematics in class XII are eligible to apply from this year. Earlier the field was only open to students from science background who had Physics, Chemistry and Mathematics in Class XII.
2. Now Planning paper of 25 marks has replaced Drawing paper for B.Plan Applicants.
About the Author: Anu Handa is an Interior Designer, DIY Artist, Co-Founder and Educator at Mosaic Institute of Design. She has been the lead blogpost writer at www.mosaicdesigns.in since 2009. Her educational background in Interior Design, Urban Planning and the English Language has given her a broad base to cover a range of topics in her articles. Anu has spent 15+ years training Design & B.Arch Aspirants for entrance exams.
Passionate about Design Education, she's briefly worked with Annamalai University as a paper setter for Design Exams. Likes to write about Design, Architecture and related fields, on online platforms like Quora. Aims at challenging the conventional & age old teaching methodology.
Back
---
Related Posts
---
Comments ( 0 )
Post comment
Login to create a comment