Interview with a NID Alumni
Created: Nov 17, 2020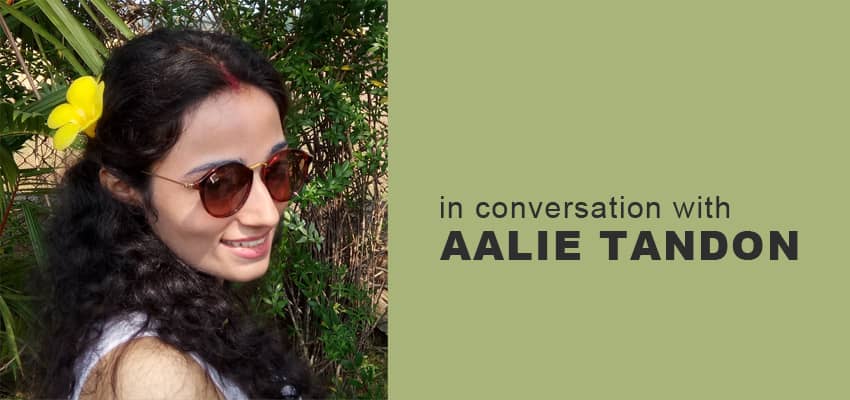 Excerpts from the interview:
Q1. What motivated you to start 17thartstreet.com?
Aalie: In all honesty, I had never thought of starting a venture of my own (and people close to me can vouch for that) ! I always visualised myself as a design professional working in a design house or with a lifestyle brand.
However, in 2016, as they say, life happened, and it happened like an un-forecasted 'thunder strike', catching both me and people close to me completely off-guard, when things took an unexpected course in my career. After battling a seemingly endless rut of dejection and disappointment; undergoing nothing short of a renaissance; it took every ounce of my will-power to try for a rebound and most importantly, to re-invent myself.
Through such trying times, the only one I could rely on to pull me out was my-own-self and, the only things that I could think of doing to get myself back on my feet were those, that I could majorly do all by myself with as minimal reliance on anyone else as possible.
That is when my childhood passion for 'making art' re-surfaced. It wouldn't even be the slightest exaggeration, to say that by way of self-teaching and "Making" Fluid-art, I truly re-discovered myself. That indeed was my 'renaissance' moment, the one that reinstated my self confidence, that I have always had ever since I was a kid, but; that had gone missing in that span of; as I like to call it; 'The Dark Times', with no pun intended.
So, post two years of recovery, trashing off of umpteen ideas and an endless amount of researching into the art skill, 17th Art Street by Aalie Tandon came into being in 2018.
Fast forwarding to today, what truly motivates us as a label to continue and build are our precious clients and patrons. It is a source of utmost satisfaction, to see our underlying philosophy, 'A Thing of Beauty is joy forever' resonating with our connoisseurs in the form of accolades and compliments that they garner or, when they appreciate our work, expressing how our creations exude an aura of beauty, joy & positivity. The little sublime sense of happiness and bliss that our art is able to infuse in their lives, is what makes what we do all the more worthwhile, keeping us all charged, every morning, when we enter our atelier.

Q2. How has the NID/NIFT experience helped you in your venture?
Aalie: I did my Bachelors in Textile Design from NIFT Delhi and Masters in Apparel Design from NID. I feel extremely fortunate to have had the opportunity to receive my design education from two of the most prestigious design institutes in India, and more so, for having few of the most amazing mentors along the way.
NIFT & NID have been much more than just a critical influence towards shaping my approach not only as a skilled designer, but also, as a holistic & a responsible creative professional.
What my alma maters taught me essentially was how to be a truly responsible professional and the importance of how immensely impactful and meaningful could a designer's role be, towards fostering and inspiring new perceptions & expressions. They encouraged liberal thinking and reasoning, mindfully exploring newer dimensions and having an empathy; some of the crucial aspects leading to a good and meaningful creative outcome, that goes beyond just being a 'pretty piece of design' (or Art in our case).
Over and above the core design courses offered, the micro learnings from the plethora of little capsular modules about lateral, but absolutely integral aspects, pertaining to the business of design are, what I feel, coming in extremely handy, perhaps almost as much as the focal hands-on design courses.
All these learnings largely define, rather embody, not only how I approach various aspects of my venture, but also my entire brand experience offering as a whole. Right from planning the concept & execution, to understanding & translating the client's vision, looking for right vendors, planning promotional creatives, styling the photoshoot, handling client queries, building client relations, product presentation & packaging, etc etc etc… (a million other responsibilities to handle) to name a few; I feel the approach and the thought would never have been the same, had I not been a part of this fraternity.
So all in all, it is all those essays & research project documentations, guest speaker sessions, case study analyses, IPR & POM presentations, and capsular photography sessions to name a few of the many more, that made the entire NIFT and NID experience immensely enriching and value packed for me, not forgetting the brilliant mentorship of my tutors that made the entire training all the more worthwhile.

Q3. Describe the genesis of 17thartstreet.com.
Aalie: 17th Art Street by Aalie Tandon was essentially born in 2018, out of the need to regain my lost footing and to bring my life back on track as I had always envisioned it to be. My background in design, keenness for art and a love affair with colours led to organically start this venture.
I have always loved the process of making/crafting with my hands and have forever been both; immensely attracted to and fascinated about, combining different textures and elements, exploring unique colour combinations and looking into ways for incorporating as much detailing into my design concepts as possible, which also characterises 17th Art Street's signature style.
I have always been a maker, right from my formative years, when I was literally crafting all kinds of makings, aka modern day DIY, right from simple water colour paintings to sand crafting, clay modelling, jewellery making, flower making, embroidery, etc etc all the way through my professional education, where I acquired a more sophisticated, industrystandard crafting & making know-how. So making and crafting with my hands is something that comes quite naturally to me.
When I started 17th Art Street by Aalie Tandon Studio, I wasn't sure about what to make, whom to sell and whether or not, anyone would pay at all for whatever it is that I had to offer; not to mention the legal formalities, paperwork etc, which are a literal nightmare for me (that now get taken care of largely by my partner and co-Founder, Devanshu Dugar).
Plus, there was another massive aspirational aspect attached to this, which was, to offer something 'truly unique' and 'not to imitate or repackage' what was already out there. Amidst this literal cacophony of dilemmas, the only and only aspect that I was confident about then, were my skills, that when it came to fluid-art, were something that I had selfacquired from scratch.

This was a very new art-form back in 2018, hence there wasn't much awareness especially in India and at that point in time, there were just about 6-8 people in India who had recently started exploring this art. It took me almost 16 months of extensive research, right from understanding the technique to finding right material suppliers in India, to setting up a home Studio cum workshop, to get started.
Chitrasanthe - Jan 2019 edition, marked our very very first public showcase; where our creations garnered loads of appreciation and interest from the prospective buyers as well as from the people who wished to try their hands at the technique. Co-incidentally, or, as we like to humbly believe; it was our showcase, that indeed led to a sudden splurge into Fluid & Resin art workshops flooding throughout the country, March 2019 onwards…
Post covid lockdown, when our plans for inter-state exhibition travelling got curtailed, in April 2020, we launched our Official Online Store, www.17thartstreet.com

Q4. How is a working day in the life of Aalie Tandon?
Aalie: In my Home Studio, my typical working day starts around 9am. I spend a couple of hours usually on social media, starting with sharing a positive quote on my IG story as a recently acquired ritual, followed by catching up on the latest trends in my art genre or watching instructional videos on genres related to photography, branding, social media marketing, video editing, copyrighting etc. I try to squeeze in client and vendor updations within this time too, if any.
Post lunch, around 3pm, I resume Studio responsibilities that could involve assessing the pieces that need finishing and/or continuing working on a piece that is on my work table or starting with a new design as the case maybe. There are days when all these three need to be done simultaneously, when there are multiple projects running parallel. On most occasions, there are several baubles, especially the new concepts, that get shelved for the right time when I can source the best accessories/trims to pair those with, for designing the final finished pair of earrings or a neckpiece.
By about 6:30pm, I take a break for evening tea. Post that, I am back to my studio duties for lets say about another couple of hours, wherein mostly, I either do a little studio clean-up (this is quite a messy art practice when it comes to studio maintenance in particular), or continue working on the projects from the afternoon. Sometimes, when I am making neckpieces etc then these hours I utilise mostly, to assemble and bring the concept together.

Q5. Where do you see 17thartstreet in two years from now?
Aalie: Ever since it started, which is about 2 years back, 17th Art Street by Aalie Tandon has been a conscious effort to be as fulfilling and as expressive to its audience as to its maker; offering one of a kind, eclectic art creations comprising wall-arts, accessories & decor incorporating natural semi-precious stones & healing crystals. The creations from our atelier, have John Keats' philosophy "A Thing of Beauty, is Joy Forever" as their underlying essence. The creations aim to embark on a sublime sense of bliss, happiness and an enchanted feeling of fulfilment, whenever gazed upon by their collectors.
17th Art Street by Aalie Tandon, is a belief that art is a therapy that can truly spark positivity, healing benefits and joy in your life. Whether it be a painting that brightens your space or a piece of jewellery that adorns you - it makes you feel special and happy from within.
We wish to build further with this innate essence and carry on innovating and exploring new possibilities with our craft form, adding new product offerings under our umbrella. We just started with a brand new offering this season - Curated Artisanal Gift Boxes, that have a unique assortment of handcrafted art products and organic treats from young Indian labels.
We are working towards elaborating our range of home decor products and collaborating with different artists and designers to bring forth one-of-a-kind creations. We have also begun the ground work for extending our mixed-media style art sensibilities and amalgamating our creations with Indian craft forms to bring forward more value packed and unique offerings in the near future. We wish 17th Art Street by Aalie Tandon, to truly be a bespoke art studio, offering absolutely unique, eclectic art collectibles and keepsakes, that continue to delight their owners every single time they set their eyes on it…

Q6. Do you have a message for the design aspirants?
Aalie: Over the course of my creative journey so far, I have realized, design & creativity are probably one of the most authentic ways to truly know yourself better, so continue to observe, explore and diligently invest your time to discover your own journey all throughout your career, especially in your initial years; be it as a design professional working for a company or as an independent one.
There is no right or wrong way honestly, when it comes to defining and drawing your own inspirations and expressing them; the only thing that makes it truly unique to each creative professional is how consciously have you followed the design process to arrive at your interpretations. Design is a way to solve problems as they say, I would like to add to this basis my experience so far, a good design (or any creative outcome for that matter) is the one that solves a problem by offering empathetic solutions that touch people's lives so subtly that it makes them feel as though it was custom tailored 'just for them'.
Also, as an end note, I'd like to say to each one of you, that throughout the course of your career, never forget why did you chose to be a designer in the first place. It may seem of not much relevance now, but its absolutely important to remember this, as once you join the industry, there will be a gazillion influences and concerns that will come your way and you might feel overwhelmed more often than you can imagine, and the only thing that's going to get you hold your footing in such confusing times and set your vision straight, is this very realisation why you chose to be a creative professional to begin with. Also, respect your peers and fellow designers and try to be as original in your offerings as you can.

With that, I wish you all the best of luck for a great future that awaits you… All The Best !
Back
---
Related Posts
---
Comments ( 0 )
Post comment
Login to create a comment