Meet Nidhi Tekwani, NID Furniture Design Alumni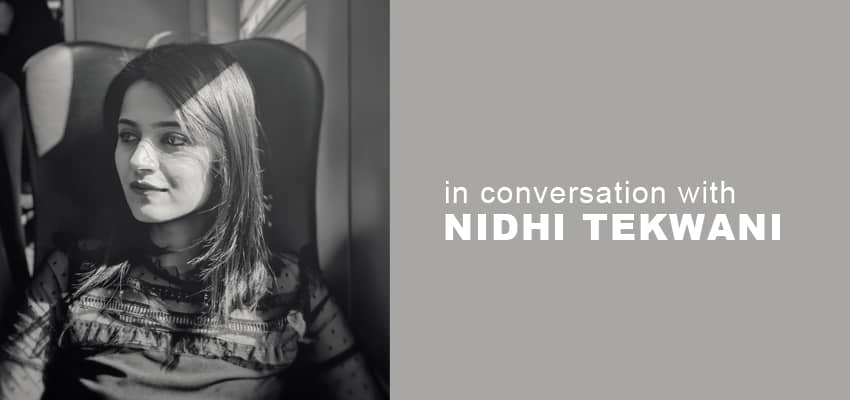 About Nidhi: Nidhi is an architect and industrial designer from NID batch of 2014. She has specialized in the discipline of Furniture design and Interior design. With a work experience spanning over 6 years, she has collaborated with design studios, e-commerce companies and corporate organizations as a professional furniture designer. She is passionate about working hands on with different kinds of materials and loves to sketch.
Excerpts from the interview:
Q 1. Nidhi, after doing your Bachelors in Architecture, you pursued Masters in Furniture Design from NID. Why this shift?
Nidhi: I wouldn't necessarily call this move a "shift" per se. It was rather an organic transition which had been shaping at the subconscious level in the final years of my undergraduate course. I realized I wanted to work on a more intimate scale where the process of design and detailing is more hands-on. I had always been in awe of how joineries between two materials worked, always admired the language of form and was truly fascinated by the creative furniture possibilities that emerged while working around the human scale and its various postures. Hence, It was then only natural for me to choose to specialize in furniture design
Q 2. How was your experience in NID?
Nidhi: How do I even begin to describe the life changing journey of 3 years. When I had stepped into hallowed portals of the National Institute of Design, I was frankly quite intimidated by the legacy of the institute and the fact that I will be sitting in a studio alongside a handpicked batch of 15 insanely creative individuals who've been selected from among the thousands who apply from all over the country. But every moment from then on was a rigorous exercise to shed the baggage of all preconceived notions, to challenge the status quo and to become an independent thinker. The academic courses at NID had been formulated in such a way that all the learning came by doing. Thanks to this process a substantial amount of time was dedicated to material libraries and the workshops in the pursuit of making explorations, small scale mock ups, proof of concepts for details and eventually creating full scale prototypes. Our course structure encouraged us to collaborate with students of different disciplines such as textile design, ceramic design and even film and video communication amongst others, which was instrumental in an immense peer to peer learning and opened our minds to new perspectives of approaching our projects. While at NID, I had the opportunity to visit France and Switzerland on student exchange programmes which were my first times on foreign shores and real eye openers towards understanding design as a way of life.
But in hindsight, perhaps the favourite aspect of my education at NID was that it really burst the bubble of the ego I had accumulated as an architect, pushed me out of that comfort zone laced with architectural jargons and asked me to go and empathise with the challenges of real people - their wants, needs and desires. It moulded me to become child-like curious and yet be as sensitive to form, color and technique as a seasoned professional. It was an education that taught me to treat the craftsman and the artisan with utmost respect and honor. The entire experience at NID empowered me with all the academic assets and technical skills needed to face the industry outside the four walls of the campus and yet remain humble and grounded in my value system.
And as if all these reasons were not enough to be indebted to my alma mater, it is also the place where I found my husband :)
Q 3. What is that one thing about Furniture Design that excites you?
Nidhi: One of the best things about furniture design is that the design process is very intimate and honest. It all starts with running your fingers across the material to develop a tactile memory of how it may feel as a piece of design encompassing the human body. The material selected should also strike a compelling conversation with the language of interiors, because furniture is always perceived in the context of space. Then to subject this material to various manufacturing processes and unearth its innate qualities, sometimes results in euphoric revelations and other times in profound let downs. And eventually when the material decides not to fit into a destiny outlined by your sketch, and rather be the piece of design that it wants to be - I think that is my favourite thing about furniture design. Not many people understand, but an inanimate looking piece of furniture is actually the embodiment of many heated design discussions, manufacturing struggles, costing crusades and the relentless perseverance of the designer!
Q 4. You've worked with brands like Livspace and Homecentre. Tell us about your work experience.
Nidhi: My work experience with e-commerce companies and the organized furniture retail sector has helped me understand the real time preference of the Indian consumer segment especially in the home and interiors category and the essence of the design process particularly for mass production.
My work has always taken me to different places, both inside the mind and outside of it! But jokes apart, as a furniture designer my work primarily involves building a mood board and a vocabulary of design trends - the inspiration for which can come right from visiting International Design fairs like Salone Del Mobile in Milan to understanding the craft sectors of Moradabad. Once the preliminary research has been completed and the material and aesthetic language of the collection nailed, the step of ideation and sketching kicks in. The selected sketches are then translated to 3-Dimensional visualizations through 3d softwares and through real time color, material and finish stimulation, final designs are selected. These are then shared with factories to build full scale prototypes. Here, I've been quite lucky to have received some profound on the job training while working in factories across India, China, Malaysia and Vietnam. One of the key takeaways while designing for mass production has been the overarching importance of creating cost competitive designs which can be flat pack/knock down, have a reduced lead time and thrive in intelligent joinery details.
My work experience has helped me become a seasoned furniture professional with a practical understanding of how good furniture design is universally convenient, leaves the user feeling empowered, provides solutions to their conscious and subconscious all while being affordable.
Q 5. Do you have a message for young interior design aspirants?
Nidhi: In words of famous furniture designer Verner Panton, "A failed experiment can be more important than a trivial design".
My advice to young interior design enthusiasts is that the world out there is full of competition, challenges, people both passionate and pretentious. But once you have decided to challenge the status quo with your imagination, perseverance and dedication to continually upgrade yourself - You'll realize you don't need to think out of the box anymore, because there would be no box left. Carpe Diem!
Back
---
Related Posts
---
Comments ( 0 )
Post comment
Login to create a comment