Aptitude Preparation for Nata
This is part 10 of 12 part series of FREE NATA COACHING SERIES.
Brush up your knowledge of Architectural Awareness section of Nata Online Test.
In this series, we focus on some of the Architectural Marvels of India.
The topic of todays post is Jaigarh Fort in Jaipur.
More to Explore...
It is said that " Jaivana," housed in Jaigarh Fort, was once the world's largest canon on wheels.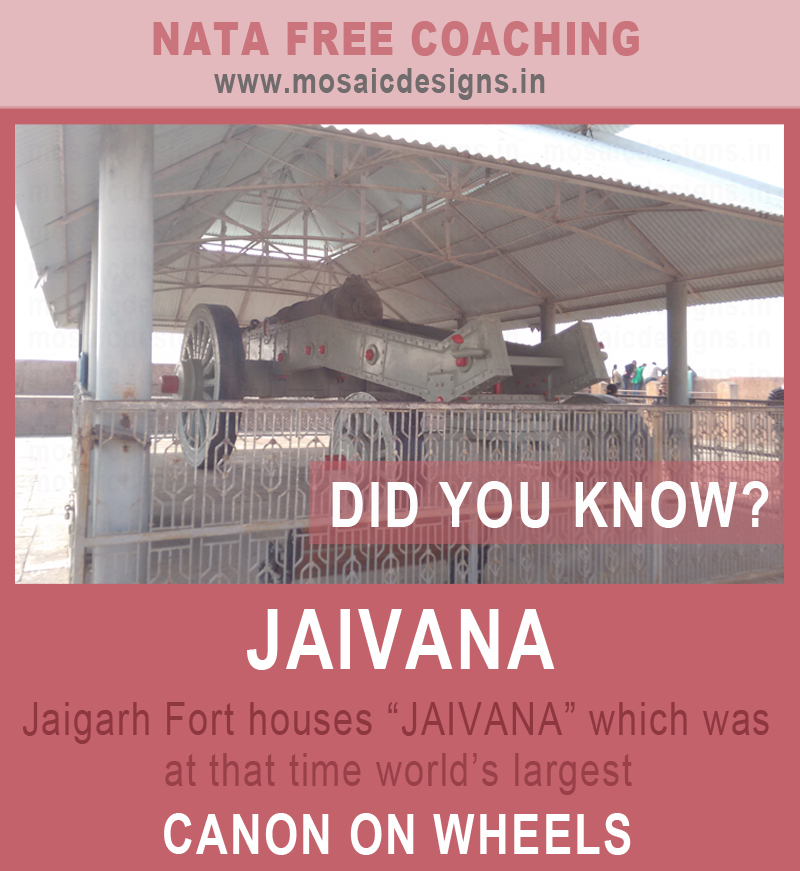 JAIVANA CANON
Jaigarh Fort was built by Maharaja Sawai Jai Singh II in 1726. It is situated in the Aravalli range, near Amber in Jaipur, Rajasthan. It now houses "Jaivana," which was at that time world's largest canon on wheels. The cannon was never used in any battle, but it is said that it was only tested and fired once.
PS: Don't forget to check out Free Nata Coaching Series: 1 - 9
About the Author: Anu Handa is an Interior Designer, DIY Artist, Co-Founder and Educator at Mosaic Institute of Design. She has been the lead blogpost writer at www.mosaicdesigns.in since 2009. Her educational background in Interior Design, Urban Planning and the English Language has given her a broad base to cover a range of topics in her articles. Anu has spent 15+ years training Design & B.Arch Aspirants for entrance exams.
Passionate about Design Education, she's briefly worked with Annamalai University as a paper setter for Design Exams. Likes to write about Design, Architecture and related fields, on online platforms like Quora. Aims at challenging the conventional & age old teaching methodology.
Back
---
Related Posts
---
Comments ( 1 )
Post comment
Login to create a comment
The abitily to think like that is always a joy to behold

By - Wilma