How to Prepare for Nata Aptitude Test?
Hello Students,
This is part 11 of 12 part series of FREE NATA COACHING. With this "Did you know" series, we bring to you Mausoleum of Mohammed Adil Shah: Gol Gumbaz of Bijapur. With this post we bring to light some interesting facts about the Mausoleum. Scroll down for complete details.
More to Explore...
Did you know?
Gol Gumbaz in Bijapur is known for its excellent acoustic properties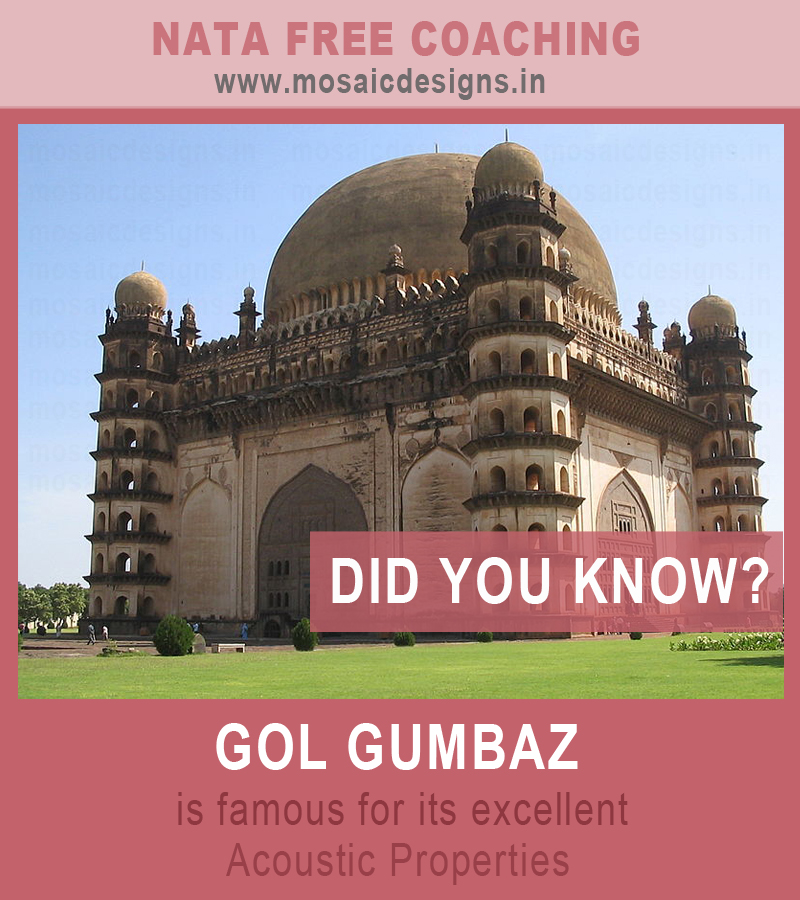 Gol Gumbaz is the mausoleum of Mohammed Adil Shah, who was the Sultan of Bijapur in Karnataka. The structure in dark grey basalt, was completed in 1656. It was built in Deccan style by architect Yaqut of Dabul. It has the largest dome in India and second largest in the world, with a diameter of 124 feet. Gol Gumbaz is famous for its marvelous acoustic properties. Worth mentioning is the "Whispering gallery," where even the softest sound can be heard on the other side of the mausoleum.
About the Author: Anu Handa is an Interior Designer, DIY Artist, Co-Founder and Educator at Mosaic Institute of Design. She has been the lead blogpost writer at www.mosaicdesigns.in since 2009. Her educational background in Interior Design, Urban Planning and the English Language has given her a broad base to cover a range of topics in her articles. Anu has spent 15+ years training Design & B.Arch Aspirants for entrance exams.
Passionate about Design Education, she's briefly worked with Annamalai University as a paper setter for Design Exams. Likes to write about Design, Architecture and related fields, on online platforms like Quora. Aims at challenging the conventional & age old teaching methodology.
Back
---
Related Posts
---
Comments ( 0 )
Post comment
Login to create a comment