NATA QUESTION PAPER
NATA PREVIOUS YEAR QUESTION PAPER
NATA EXAM PAPER
(...........A GLIMPSE)
Updated: Apr 13, 2021 by Anu Handa
NATA Drawing Test Answer Key by Mosaic. The questions solved below are from the Nata 2017 Exam. This was the year when COA had changed Nata exam pattern and held it as a single paper based exam. This has been the toughest exam paper of Nata till date, specially the drawing section. We have tried to give detailed explanations & diagrams for each question which you will not find anywhere else. Solving this paper will help you learn a lot & equipp you with the forthcoming exams. All the Best!!

Q1. One late afternoon, you along with your family members were enjoying a boat ride along a river and viewed a spectacular sunset. You noticed that the boat was moving from south to north and all of you were facing north. Suddenly, your youngest brother shouted and told everybody to see the river bank on your right side. You saw a series of high-rise apartment building interspersed with trees. But, in the middle, there was a beatiful river ghat, a garden and a small white mosque adjacent to it. Lots of birds were flying around and sitting on its golden dome. In the concrete jungle, the small structure seemed to be a nice relief. Develop a coloured sketch (use dry colour) of what you experienced.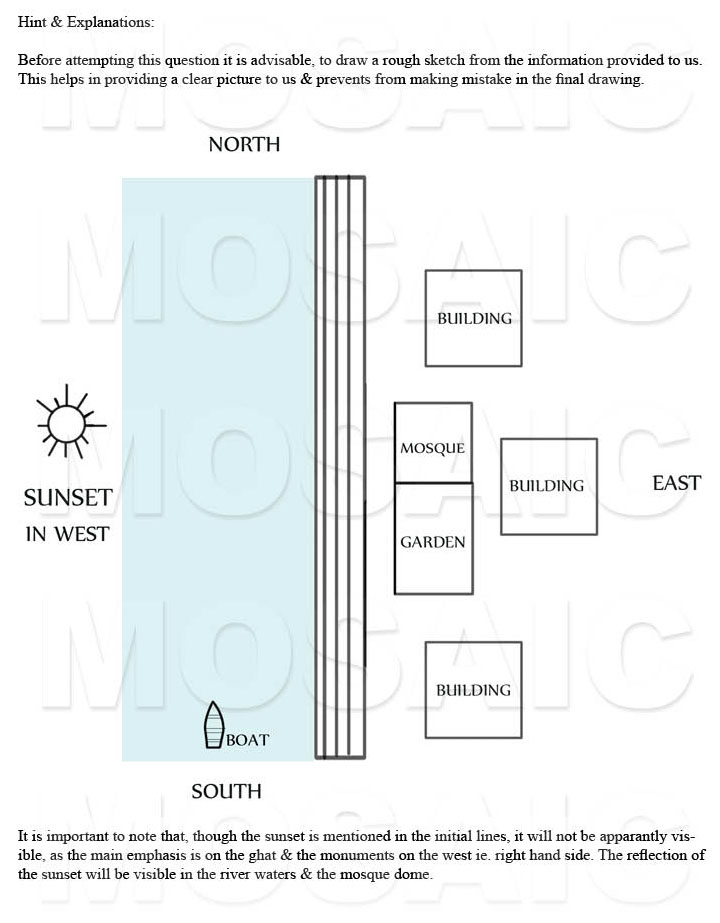 This is how the final coloured sketch will look:
Ans 1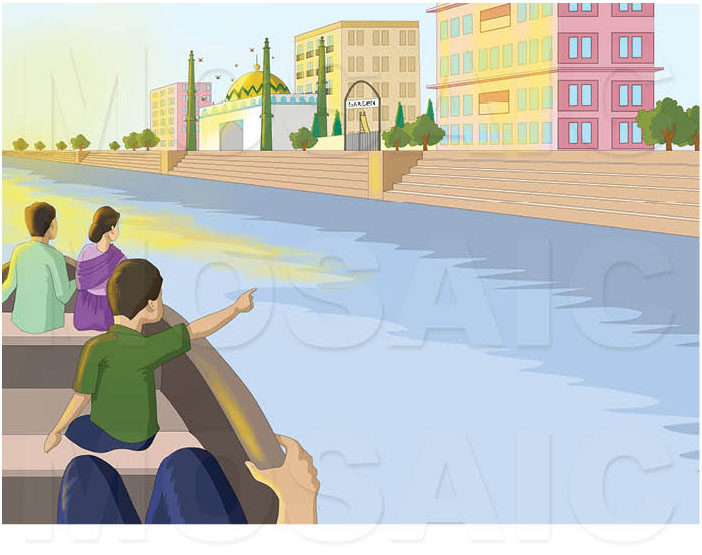 NATA DRAWING QUESTIONS WITH SOLUTIONS
Q2. You are waiting in a railway platform for catching a local train. Some people are also waiting there with small and big luggage. Few people are sitting on wooden benches. There is a small food shop. You saw that the roof above is sloped. Standing at the entry point of the platform you noticed that the train is coming and has reached almost midway of the length of the platform. Draw a pencil sketch of what you experienced.
Ans 2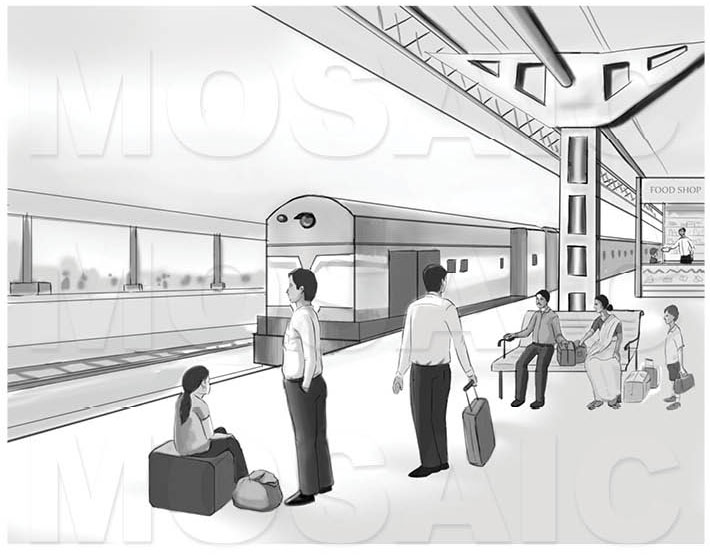 NATA EXAM QUESTION PAPER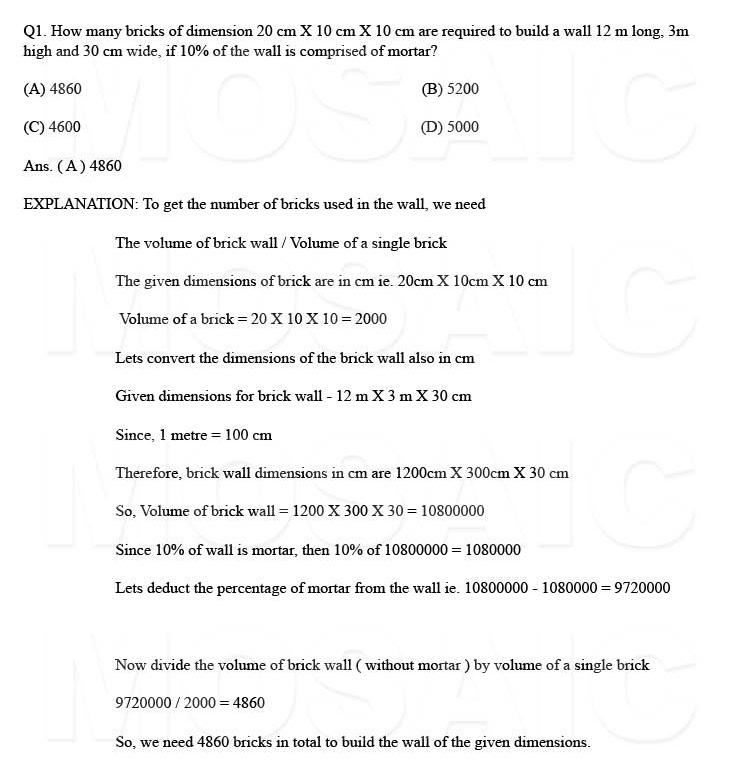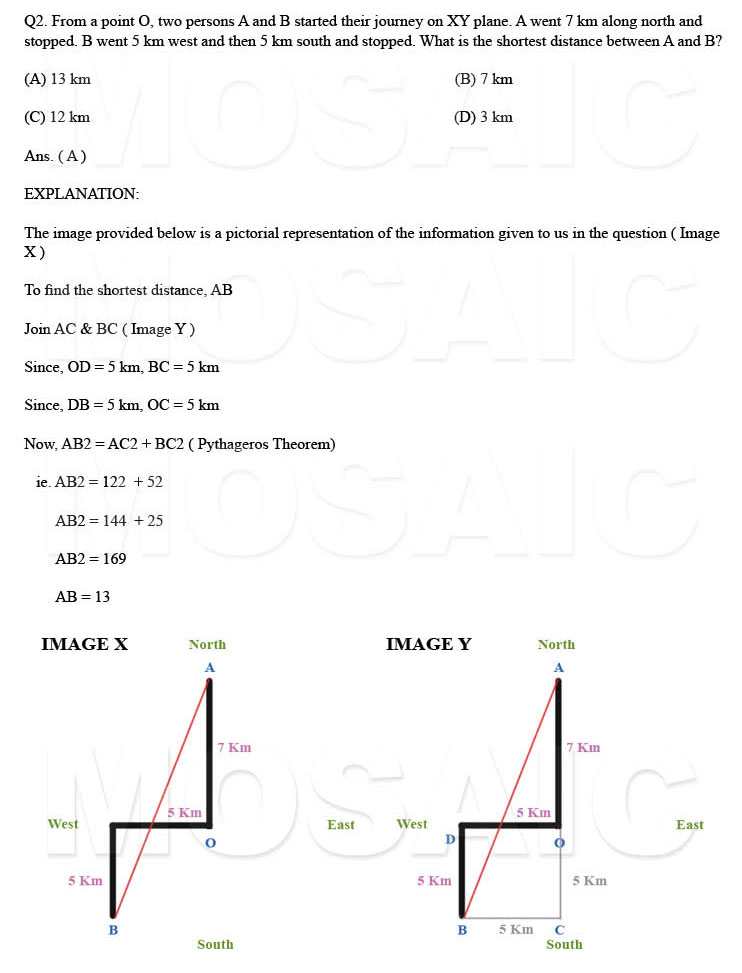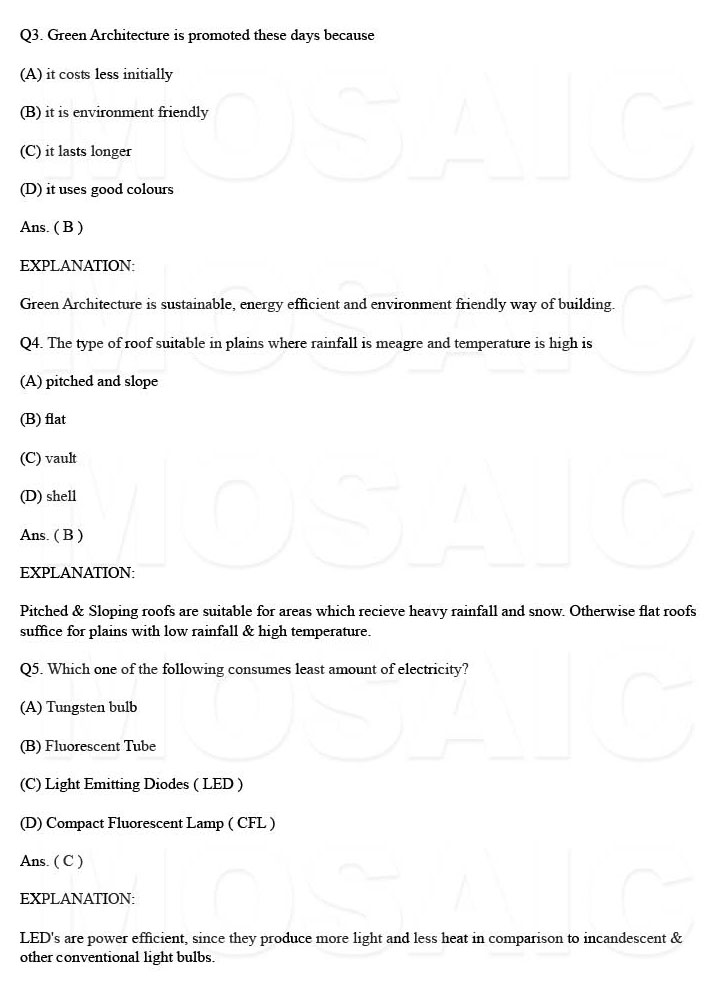 NATA entrance exam is held by Council of Architecture for candidate's seeking admission to first year of 5 year B.Arch Degree at all recognized institutions across India. The candidate is required to solve all the three sections of the exam ie. PCM, General Aptitude and Drawing Section in the stipulated 180 minutes.
Nata Aspirants should follow a disciplined preparation strategy to clear the exams with flying colours. Apart from solving Nata Mock Test Questions, the candidates should also focus on Nata Old Question Papers. This should be done to get acquainted with the paper style, pattern and type of questions asked in the exam.
For the benefit of the student community, Mosaic offers Nata Past Papers in the form of downloadable Pdfs. Click to get Nata 2017 Question Paper. Solving a maximum number of Nata Entrance Exam Question Papers also helps students in identifying their weak areas and concentrating on repeated topics.
Mosaic offers free pdf download of NATA Examination Papers, NATA Sample Question Papers and Nata Solved Papers. For effective preparation, candidates can avail Mosaic Nata Study Material and Nata Video Coaching.
Save
Save
Save
Save
Save