Drawings for NATA Exam: Are you making these Mistakes?
Hello Friends,
The following article will discuss and analyze different options, both good and bad to a single question.
Following drawings present some of the very common mistakes made by Nata Aspirants.
Our faculties personally picked up the drawings to make students aware of their mistakes, identify and correct them.
At Mosaic, we have a series of 12 such helpful articles to help students with Nata exam preparations.
You can scroll down for links to similar articles......
So, here is the question
Ques. Make an interesting 2-D fruit basket and fill in with an interesting colour scheme.
Firstly, it's given that a 2D composition is to be made.
The contents are a fruit basket and some fruits in it.
The question is pretty simple & clear in itself.
And it's super easy to score marks here.
Some things have to be kept in mind though...
Accuracy of the contents ie. how real the fruits and the basket look. This means you need to be good with your drawing quality, proportions, speed and rendering.
For this question, we are featuring four attempts of varying qualities.
Starting with the best one first.
Here we go......
Nata Drawing Test Questions and Answers
Attempt 1
The drawing scores high on composition, neatness & correct proportions.
But brilliant colour scheme and excellent pencil colour rendering prove to be the cherry on the cake.
Utmost care has been taken to present the fruit basket in 2 Dimension - No hint of third dimensin in the fruits or the basket, yet creating an interesting and well - balanced composition.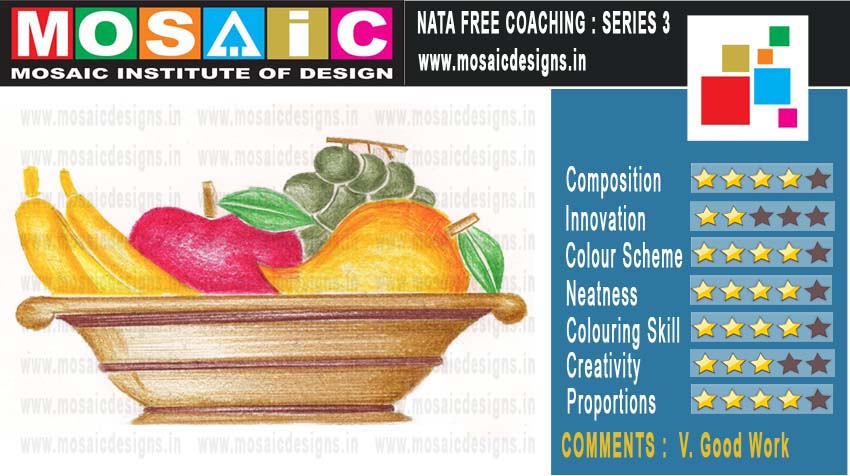 More to Explore...
Nata Drawing Questions and Answers
Attempt 2
We come to the second attempt now & can see some problems here.
The drawing lacks interest and innovation.
A below average work.
The fruits are too small in proportion to the basket.
Providing 3rd Dimension to the basket is not required since the question asks for a 2D basket.
The basket is not symmetrical and lacks texture.
Rendering is below average.
Nata Entrance Exam Drawing Questions with Solutions
Attempt 3
An average work which can improve with practice
Nata Drawing Test with Solution
Attempt 4
In the hurry to finish the drawing, students sometimes make very small but significant mistakes which can't be corrected after rendering.
The examiner can easily detect the imperfections and the student stands to loose marks for the same.

About the Author: Meet Anu Handa – Interior Designer turned Edupreneur, Blogger and co-founder at Mosaic Institute of Design. Anu has spent 15+ years training Design & B.Arch Aspirants for entrance exams.
Her online platform www.mosaicdesigns.in, helps the next generation of Design & B.Arch Aspirants get the right career advice, choose the most apt design streams, help them prepare for the entrance exams and choose the best college.
She has been the lead blogpost writer at www.mosaicdesigns.in since 2009. Her educational background in Interior Design, Urban Planning and the English Language has given her a broad base to cover a range of topics in her articles.
Passionate about Design Education, she likes to write about Design, Architecture and related fields on online platforms. Aims at challenging the conventional & age old teaching methodology.
Read more on Anu Handa
Back
---
Related Posts
---
Comments ( 0 )
Post comment
Login to create a comment