FREE NATA COACHING : SERIES 7
Updated: Sep 13, 2020
Hello Students,
This is Part 7 of the 12 part series of FREE NATA COACHING - An initiative by Mosaic Institute. Guess what is in store in SERIES 7. India can boast of two magnificent Sun Temples: The grand Sun Temple in Konark, Odisha and the second one in Modhera, Gujarat. Yes, you guessed it right......This time the "Did you know" series focuses on Modhera Sun Temple in Gujarat. Scroll down for pictures and other details.
More to Explore...
Did you know?
The first rays of the sun fall on the image of the diety Surya, or the Sun God in Modhera Sun Temple at the time equinoxes.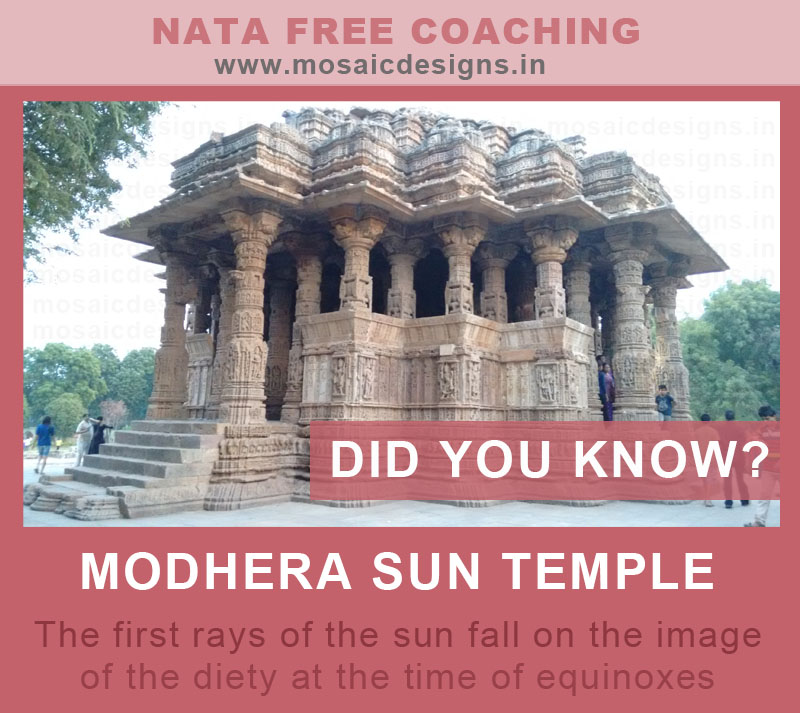 Modhera Sun Temple was built by King Bhimdev of the Solanki Dynasty in 1026 AD. The temple, 102 km from Ahmedabad, situated on the banks of river Pushpavati, is dedicated to the Hindu Sun – God. A very interesting feature of the temple is that the first rays of the sun fall on the image of the diety Surya, or the Sun God at the time equinoxes. Currently the temple is under the supervision of Archaeological Survey of India (ASI). Prayers are not offered in the Temple now. Read more blogs to have access to such interesting facts about Architectural Awareness Section of Nata.

About the Author: Anu Handa is an Interior Designer, DIY Artist, Co-Founder and Educator at Mosaic Institute of Design. She has been the lead blogpost writer at www.mosaicdesigns.in since 2009. Her educational background in Interior Design, Urban Planning and the English Language has given her a broad base to cover a range of topics in her articles. Anu has spent 15+ years training Design & B.Arch Aspirants for entrance exams.
Passionate about Design Education, she's briefly worked with Annamalai University as a paper setter for Design Exams. Likes to write about Design, Architecture and related fields, on online platforms like Quora. Aims at challenging the conventional & age old teaching methodology.
Back
---
Related Posts
---
Comments ( 0 )
Post comment
Login to create a comment