Drawing Questions of Nata: Common Mistakes
Hi Friends,
Presenting Free Nata Coaching: Series 8. This is part 8 of a 12 part Series. With this series, we aim to make you aware of the most common mistakes made in the Nata Drawing Questions by the students. The faculties provide critical analysis and feedback on the drawings attempted by students.
The student community has given thumbs up to our Free Nata Coaching Series. The series has been highly applauded and appreciated by Nata Aspirants. We are working on the new series, trying to publish the works as soon as possible, so that students can benefit for Nata preparation.
More to Explore...
So, here goes the first question from Nata Previous Year Papers
Q1. Imagine that your size is 6 cm & you are standing on kitchen platform. You can see your mother making chapattis, the sabzi cooking on the gas stove & other utensils & pots. Draw the view. Render in pencil only.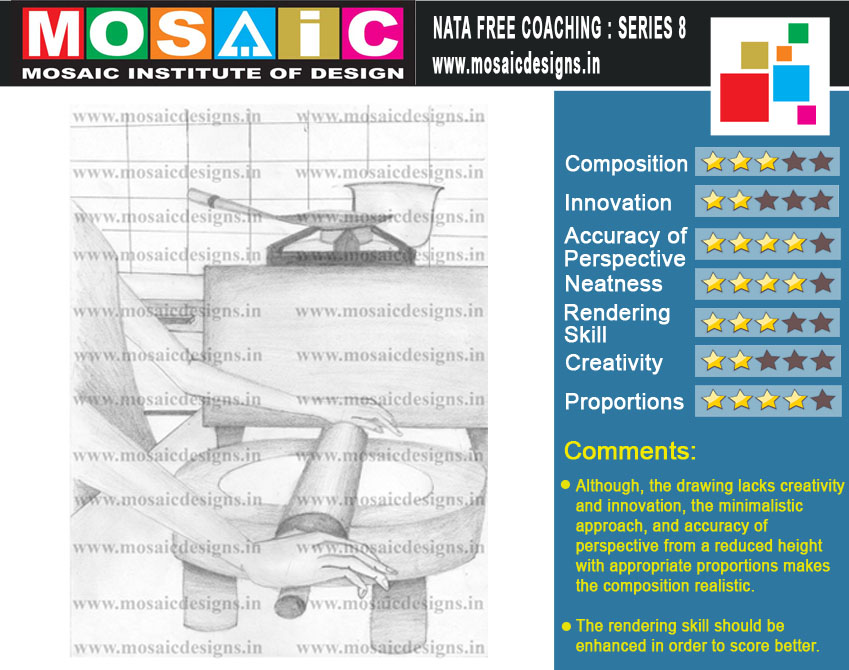 Comments: Inspite of very little elements, the view is correct.
Comments: View is correct but some fundamental drawing mistakes takes the charm away from this perspective.
Comments: The drawing has a lot of flaws. The student needs to work on basics of drawing and perspective making.
About the Author: Anu Handa is an Interior Designer, DIY Artist, Co-Founder and Educator at Mosaic Institute of Design. She has been the lead blogpost writer at www.mosaicdesigns.in since 2009. Her educational background in Interior Design, Urban Planning and the English Language has given her a broad base to cover a range of topics in her articles. Anu has spent 15+ years training Design & B.Arch Aspirants for entrance exams.
Passionate about Design Education, she's briefly worked with Annamalai University as a paper setter for Design Exams. Likes to write about Design, Architecture and related fields, on online platforms like Quora. Aims at challenging the conventional & age old teaching methodology.
Back
---
Related Posts
---
Comments ( 0 )
Post comment
Login to create a comment