FREE NATA COACHING : SERIES 4
Hello Students,
We at MOSAIC have started an all new "Did you know" Nata Architectural Awareness series providing you with Free Nata Online Coaching. But before we start with the free article, we would like to take this oppurtunity to share some advantages of ONLINE COACHING FOR NATA. Take a while to go through the details & the immense benefits it offers. Or you have the option to scroll down to read the Article.....
Excerpt from an article on Nata Coaching Classes Online:
Why travel long hours & attend overcrowded, expensive tuitions?
Expert Guidance is available in the comforts of your home.
According to American educator Edgar Dale: We remember 10% of what we read, 20% of what we hear, 30% of what we see & 50% of what we hear and see. The above study distinctly shows the remarkable effect watching videos can have on your exam preparations. The logic behind is that videos stimulate more senses than reading words from a book. Watching videos makes learning uncomplicated & also makes it easier to recall difficult process.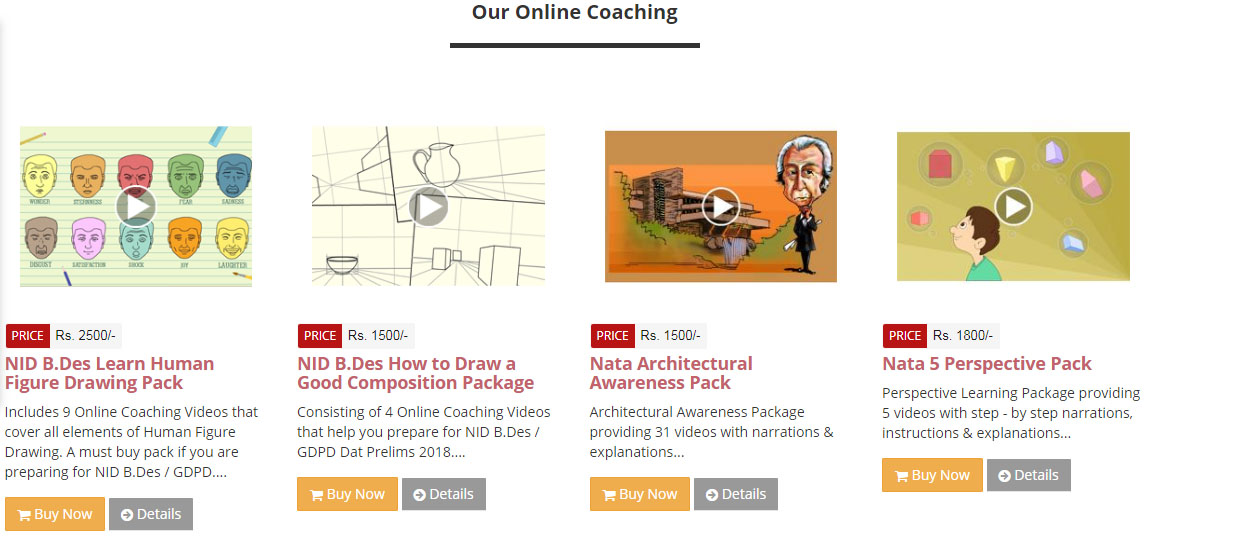 Advantages of Online Video Coaching
CONVENIENT & USER ORIENTED
24 X 7 Accessibility
No worries of missing a class. Provides the benefits of not missing college or work to attend classroom coaching.
MAKES LEARNING INTERESTING
Video Coaching ensures that whatever is learnt retains in the students memory for a long period of time.
Animations & Graphics used in the videos, add interest, ensure that students develop an eagerness to learn and also simplify complex topics.
EFFICIENT & SYSTEMATIC LEARNING
No reluctance in asking a question in a class full of students. Students can e-mail their doubts to the faculties.
Helps parents to keep a watch on what their children are studying.
Pause-Rewind-Relearn and watch the videos any number of times.
QUALITY EDUCATION AT YOUR FINGERTIPS
Provides you the flexibility to study anywhere - anytime.
Install application in your Tablet or Smartphone. Watch the videos from the comforts of your home, while travelling or while waiting for somebody. Saves valuable time!
LIGHTER ON YOUR POCKET
Online Video Coaching is less expensive in comparison to traditional classroom coaching or hiring home tutors.
Also, you save on travelling cost & time thus proving to be more Cost Effective.
WHY NO TO TRADITIONAL CLASSROOM COACHING?
Long hours of classroom coaching is very tiring for students. Also very difficult to manage with school, college or work.
Boredom tends to set in with traditional learning methods. Watching videos can refresh you as they make learning more interesting.
While attending classroom coaching, the students performance majorly depends on how competent the tutor is. Whereas the videos are prepared by a team of experts backed by 10 years of MOSAIC experience.
In today's fast paced lifestyle, online education is the best choice available to you.
MOSAIC INSTITUTE OF DESIGN
India's No. 1 ONLINE PLATFORM for NID / NIFT / NATA entrance offers online video coaching, downloadable PDF's and printed books. Choose from the packages below & see the difference.
Now, here start the free article...
FREE NATA COACHING SERIES
For all Nata Aspirants,
Did you know?
Crystal Palace built to house the Great Exhibition of 1851 was designed by a gardener.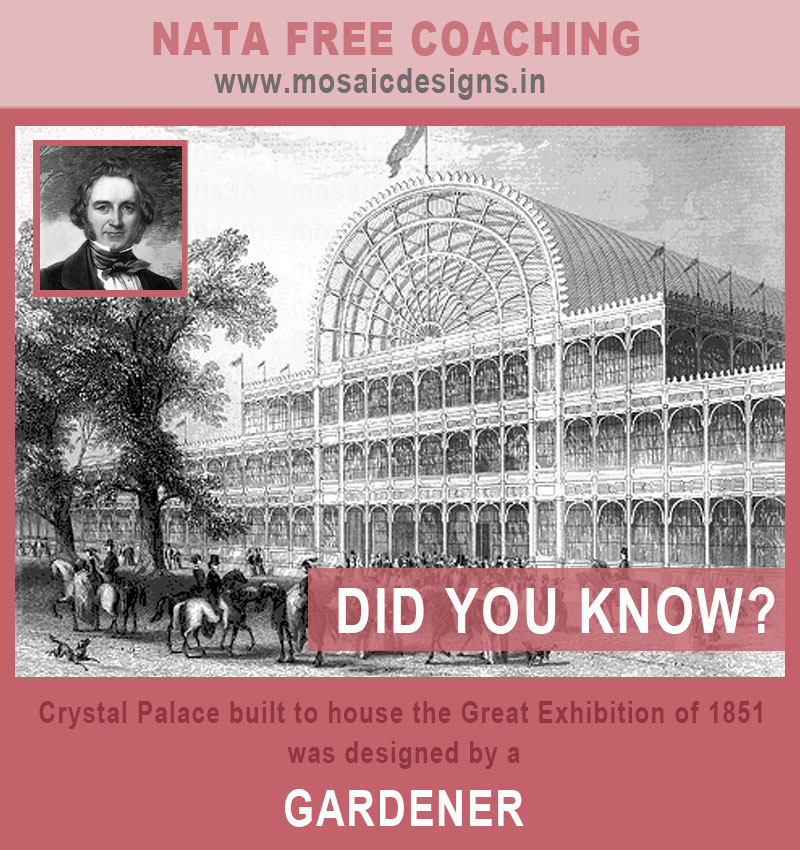 JOSEPH PAXTON
Yes, its true! The iron & glass structure which was constructed to house The Great Exhibition of 1851 to showcase the products of many countries was designed by Sir Joseph Paxton – a renowned gardener The Commission in charge of finalizing the design & construction of Crystal Palace, invited submissions from general public. Paxton's design proved to be very much faster & cheaper to build than all the other entries.
The Great Exhibition witnessed more than 14,000 exhibitors from around the world. After the exhibition, it was shifted to a South London suburb but was destroyed by fire in 1936
Save
Save
Save
Save
Back
---
Related Posts
---
nice

By - sonali harlalka