Nata Architecture Awareness Questions
Hello Students,
This is Part 4 of the 12 Part series of Nata Free Coaching Series. Today we will discuss an important monument that led to the begining of the Modernist Movement in Western Architecture: The Crystal Palace. Joseph Paxton's Crystal Palace, was composed of standardized, pre-fab parts. It was a steel-and-glass pavilion erected for the Great Exhibition of 1851. The building covered 93000 sq. metres and took a record four months to erect. It led to starting of an era where engineering radicalized architectural design.
FREE NATA COACHING SERIES
For all Nata Aspirants,
Did you know?
Crystal Palace built to house the Great Exhibition of 1851 was designed by a gardener.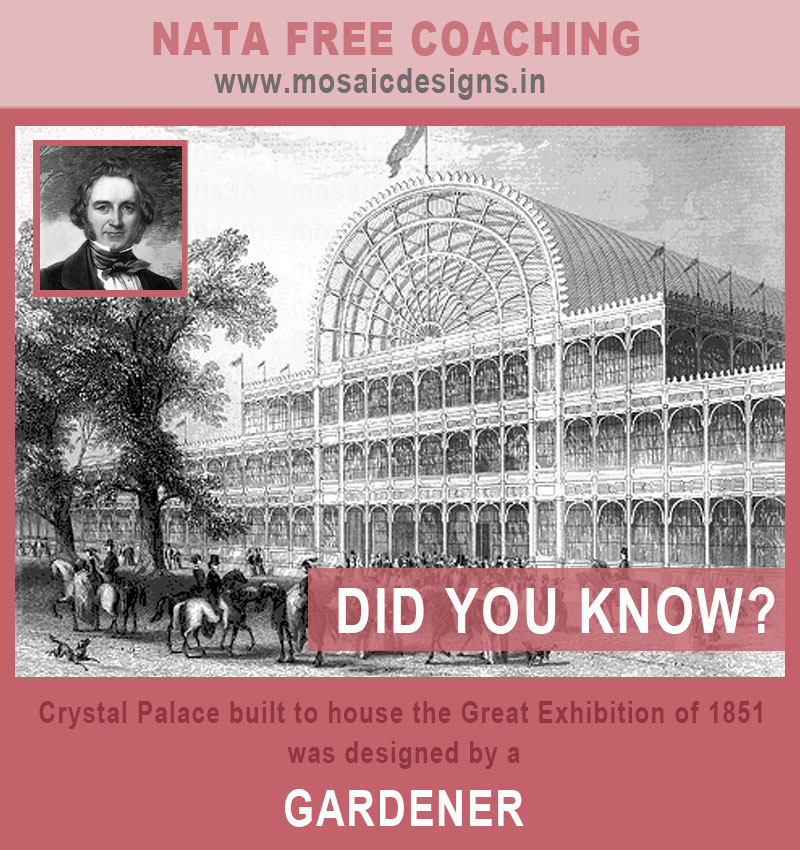 More to Explore...
Yes, its true! The iron & glass structure which was constructed to house The Great Exhibition of 1851 to showcase the products of many countries was designed by Sir Joseph Paxton – a renowned gardener The Commission in charge of finalizing the design & construction of Crystal Palace, invited submissions from general public. They recieved a large number of entries: some were impractical to build and some were not economical at all. Paxton's design proved to be very much faster & cheaper to build than all the other entries.
The Great Exhibition witnessed more than 14,000 exhibitors from around the world. After the exhibition, it was shifted to a South London suburb but was destroyed by fire in 1936
About the Author: Anu Handa is an Interior Designer, DIY Artist, Co-Founder and Educator at Mosaic Institute of Design. She has been the lead blogpost writer at www.mosaicdesigns.in since 2009. Her educational background in Interior Design, Urban Planning and the English Language has given her a broad base to cover a range of topics in her articles. Anu has spent 15+ years training Design & B.Arch Aspirants for entrance exams.
Passionate about Design Education, she's briefly worked with Annamalai University as a paper setter for Design Exams. Likes to write about Design, Architecture and related fields, on online platforms like Quora. Aims at challenging the conventional & age old teaching methodology.
Save
Save
Save
Save
Back
---
Related Posts
---
Comments ( 1 )
Post comment
Login to create a comment
nice

By - sonali harlalka