FREE NATA COACHING: SERIES 5
Updated: July 23, 2020
Hello Students,
We are back with the FREE NATA COACHING: SERIES 5. Continuing with the all new "Did you know" Nata Architectural Awareness series to help you with Nata Online Test preparation. The Architectural Monument in focus is the Hawa Mahal situated in Jaipur. Scroll down for the details.
More to Explore...
Did you know?
Hawa Mahal in Jaipur was built using the Venturi Effect which allows cool air to enter the lattice, cooling the whole area during hot weather.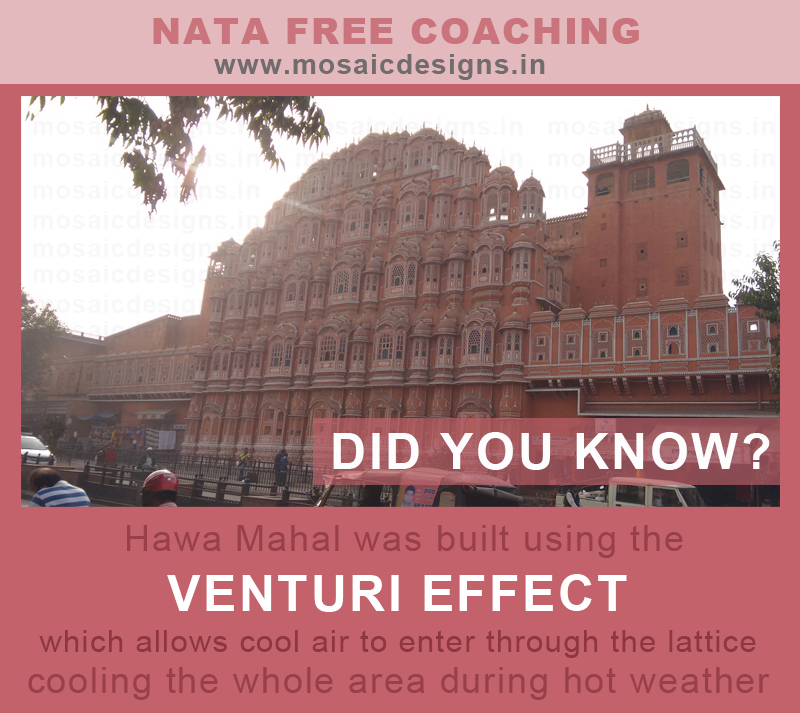 Hawa Mahal was built by Maharaja Sawai Pratap Singh and designed by Lal Chand Ustad in the year 1799. Hawa Mahal is a very famous structure built in red and pink sandstone in Jaipur city. The high screen of the Mahal faces the street. In olden times, women of the royal household used to enjoy street festivals from behind the screen, at the same time no outsiders were able to see them. Hawa Mahal is also called " Palace of Winds" because it uses the Venturi Effect, allowing cool air from the numerous Jharokhas decorated with Latticework, cooling the interiors in hot weather.
Back
---
Related Posts
---
Comments ( 0 )
Post comment
Login to create a comment