Nata Aptitude Preparation
The Architectural Monument in focus for this article is the Hawa Mahal situated in Jaipur.
But first some Sample Questions for Nata on Hawa Mahal.
Ques 1. Where is Hawa Mahal?
Ans. Hawa Mahal is a very famous structure located in Jaipur city in Rajasthan.
Ques 2. Who built Hawa Mahal?
Hawa Mahal was built by Maharaja Sawai Pratap Singh and designed by Lal Chand Ustad.
Ques 3. How many windows are there in Hawa Mahal?
Ans. Hawa Mahal has 365 windows or jharokhas.
Ques 4. Why Hawa Mahal is called Hawa Mahal?
Ans. Hawa Mahal is also called " Palace of Winds" because it uses the Venturi Effect, allowing cool air from the numerous Jharokhas decorated with Latticework, cooling the interiors in hot weather.
Ques 5. Why Hawa Mahal was built?
Ans. The high screen of the Mahal faces the street. In olden times, women of the royal household used to enjoy street festivals from behind the screen, at the same time no outsiders were able to see them.
Ques 6. When Hawa Mahal was built?
Ans. Hawa Mahal was built in the year 1799.
Ques 7. Is Hawa Mahal a World Heritage Site?
Ans. Yes, Hawa Mahal is a World Heritage Site.
Ques 8. What material is used in Hawa Mahal?
Ans. Hawa Mahal is a very famous structure built in red and pink sandstone.
More to Explore...
Did you know?
Hawa Mahal in Jaipur was built using the Venturi Effect which allows cool air to enter the lattice, cooling the whole area during hot weather.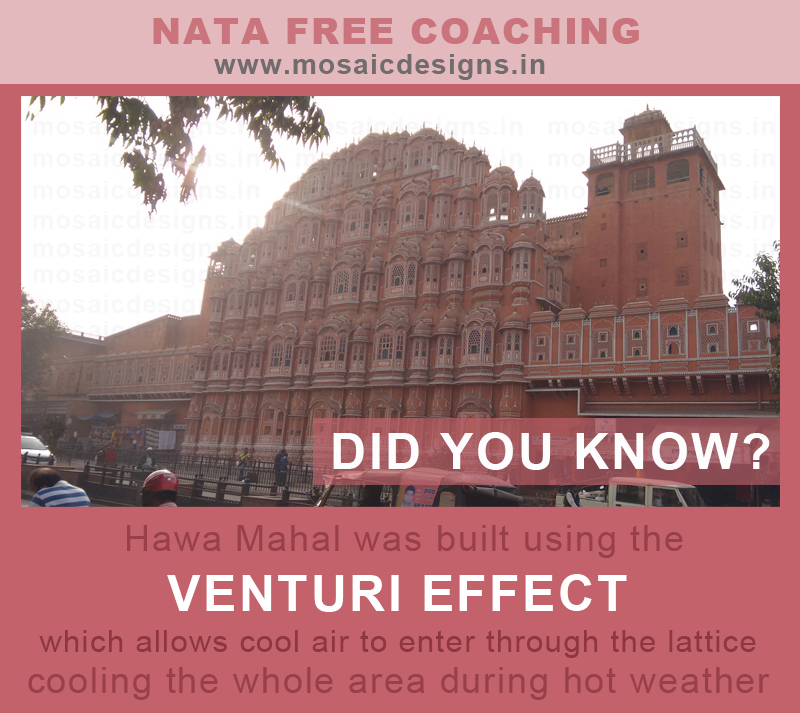 About the Author: Anu Handa is an Interior Designer, DIY Artist, Co-Founder and Educator at Mosaic Institute of Design. She has been the lead blogpost writer at www.mosaicdesigns.in since 2009. Her educational background in Interior Design, Urban Planning and the English Language has given her a broad base to cover a range of topics in her articles. Anu has spent 15+ years training Design & B.Arch Aspirants for entrance exams.
Passionate about Design Education, she's briefly worked with Annamalai University as a paper setter for Design Exams. Likes to write about Design, Architecture and related fields, on online platforms like Quora. Aims at challenging the conventional & age old teaching methodology.
Back
---
Related Posts
---
Comments ( 0 )
Post comment
Login to create a comment