Nata Sample Papers
Updated: Nov 22, 2020
Hello Friends,
Presenting yet another free treat from Mosaic: Nata GAT Sample Paper with Solutions. The General Aptitude Test of Nata is a Multiple Choice Question Paper and held as an Online Test. The GAT paper has 35 Questions with 1.5 marks allotted to each question. The GAT and PCM paper will be held in the second part and consist of 45 minutes. The first 135 minutes will be allocated to the drawing paper of Nata Exam. It is important for the student to get acquainted with the pattern of the Online Test before appearing for the exam.
NATA SAMPLE PAPER
GENERAL APTITUDE TEST
Total Ques: 40
1. Red, Yellow and _________ form a primary colour scheme.
(a) Blue
(b) Green
(c) Orange
(d) Purple
BONUS: Hey Friends, You can go through this detailed article on "Nata Solved Previous Year Paper" where you can learn how to solve Nata MCQ & Nata Drawing Questions. Believe me, this has been by far the toughest & most challenging Nata paper so far. It teaches you step-by-step method of solving Nata Questions related to Direction Test, Architectural Awareness and Perspectives. Also contains the Answer Key for the full paper.
More to Explore...
Friends, what are your views on Nata Classroom Coaching? Read the full article on "Is Classroom Coaching Required for Nata Exams?" before you enroll yourself in a coaching class.
2. Understand the relationship between 1 & 2. Choose the missing figure from the options given such that a similar relationship is established between 3 & 4



3.Complete the series of the problem figures by choosing the correct answer from the options given below



4. Identify the structure
(a) Supreme Court
(b) Parliament House
(c) Vidhan Sabha
(d) Rashtrapati Bhavan
5. What is the finish of sanitary fittings
(a) Glossy & Rough
(b) Glossy & Smooth
(c) Matte & Rough
(d) Matte & Smooth
6. A 3-D problem figure is given below. Identify the correct front view from the options


7. A 3-D problem figure is given below. Identify the correct top view from the options.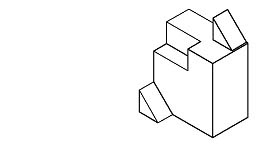 8. Identify the structure
(a) Colossus of Rhodes
(b) Statue of liberty
(c) Pharos of Alexandria
(d) Tower of Piza
9. If a colour is made darker by adding black, the result is called a __________.
(a) Shade
(b) Chroma
(c) Tone
(d) Tint
10. Complete the series of the problem figures by choosing the correct answer from the options given below


11. CN Tower is also known as
(a) Canadian National Tower
(b) Canada Nations Tower
(c) Canada Nationalist Tower
(d) Canadian Nations Tower
12. Higher the purity of a colour, higher the ______.
(a) Saturation
(b) Value
(c) Chroma
(d) Luminance
13. Identify the building
(a) Lic building
(b) Air India Building
(c) Kanchanjunga Apartments
(d) None of the above
14. Find the correct 3-D figure from the options, which has the same front view as given in the problem figure, looking in the direction of the arrow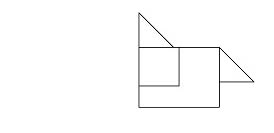 15. Identify the building
(a) CN Tower
(b) Sky Tower
(c) Petronas Towers
(d) Sydney Tower
16. In the given problem figure, find out the total number of surfaces of objects
(a) 12
(b) 13
(c) 16
(d) 15

17. TEOTIHUACAN is famous for ___________
(a) Egyptian Pyramids
(b) Mesoamerican Pyramids
(c) Ziggurats
(d) Mastabas
18. A sheet of paper is folded & cut in the given steps. Select the correct answer from the options given below which resembles the pattern paper acquires when it is unfolded


19. Why India Gate was built ?
(a) To pay homage to British Soldiers who died during World War I
(b) To commemorate India's freedom
(c) To celebrate shifting of capital to New Delhi by Britishers
(d) As a gift from Britishers to India
20. Identify the structure
(a) Gebel Barkal
(b) Louvre pyramid
(c) Transamerica Pyramid
(d) Pyramid of Cestius

All 40 questions with answers - Nata Aptitude Questions
About the Author: Anu Handa is an Interior Designer, DIY Artist, Co-Founder and Educator at Mosaic Institute of Design. She has been the lead blogpost writer at www.mosaicdesigns.in since 2009. Her educational background in Interior Design, Urban Planning and the English Language has given her a broad base to cover a range of topics in her articles. Anu has spent 15+ years training Design & B.Arch Aspirants for entrance exams.
Passionate about Design Education, she's briefly worked with Annamalai University as a paper setter for Design Exams. Likes to write about Design, Architecture and related fields, on online platforms like Quora. Aims at challenging the conventional & age old teaching methodology.
Back
---
Related Posts
---
Comments ( 0 )
Post comment
Login to create a comment