Nata Free Study Material
Updated: Nov 15, 2021
Hey Friends! To help you with Nata preparations, we at Mosaic have come up with lot of freebies: here comes a question that is designed on pattern of Nata Question Paper. A video & detailed diagrams come as a bonus.
Ques. Mohan had a small piece of land, fifteen feet six inches in length & nine feet six inches, in breadth. He decides to build a single room having ten feet height, with a nine-inch wall on all four sides. He also decides to have a door having three feet width and seven feet height, and two windows measuring three feet by four feet each. After the room is built, Mohan decides to get the inside walls & ceiling painted. Calculate the internal area of the room to be painted?
More to Explore...
Ans. Before attempting this question, it is advisable to draw a rough sketch from the information provided. This helps in presenting a clear picture to us & prevents from making further mistakes.
You will notice that when you re-read the question, you can note down the main points like…….
Land size – 15'-6" X 9'-6"
Door Size – 3'-0" X 7'-0"
Window Size – 3'-0" X 4'-0" (2Nos.)
Wall Thickness – 9"
Room Height – 10'-0"
Lets make a rough diagram with the help of above measurements. We'll make the piece of land measuring fifteen feet six inches in length & nine feet six inches, in breadth.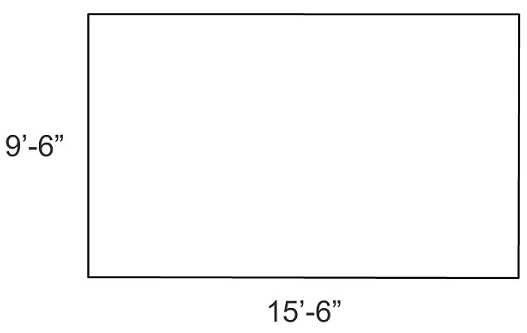 Add nine inch wall on all four sides. This will reduce the internal area to fourteen feet by 8 feet. This is also the area of ceiling.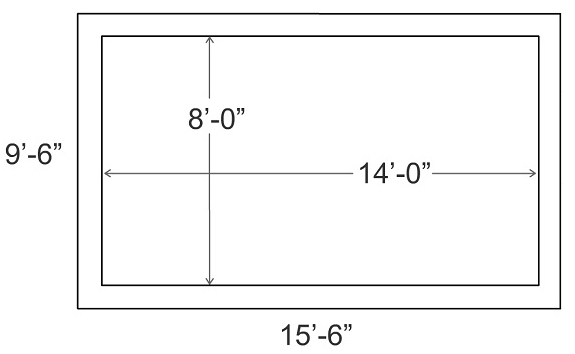 Add the door & two windows.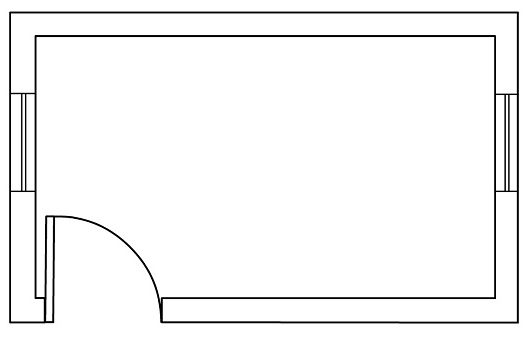 Lets mark the four walls as Wall A,B,C & D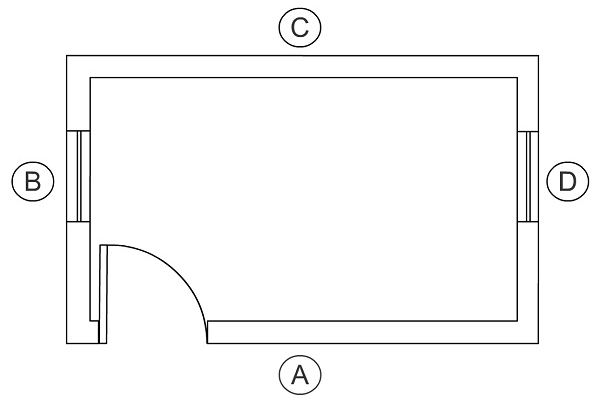 Lets calculate the area required for painting:
Ceiling Area – 14'-0" X 8'-0"
= 112 sq ft.

Wall A – (14'-0" X 10'-0") – (7'-0" X 3'-0")
= 140 -21
= 119 sq ft.

Wall B – (8'-0" X 10'-0") – ( 4'-0" X 3'-0")
= 80 – 12
= 68 sq feet.

Wall D – Same as Wall B
68 sq ft.
Wall C – 14'-0" X 10'-0"
= 140 sq ft
Adding them all up, we get:

112 + 119 + 68 + 68 + 140

= 507 sq ft.

So, Mohan needs to paint 507 sq feet of internal room area.
Click to access Full Nata Study Material
About the Author: Anu Handa is an Interior Designer, DIY Artist, Co-Founder and Educator at Mosaic Institute of Design. She has been the lead blogpost writer at www.mosaicdesigns.in since 2009. Her educational background in Interior Design, Urban Planning and the English Language has given her a broad base to cover a range of topics in her articles. Anu has spent 15+ years training Design & B.Arch Aspirants for entrance exams.
Passionate about Design Education, she's briefly worked with Annamalai University as a paper setter for Design Exams. Likes to write about Design, Architecture and related fields, on online platforms like Quora. Aims at challenging the conventional & age old teaching methodology.
Back
---
Related Posts
---
Comments ( 0 )
Post comment
Login to create a comment