What if I do not get into NID?
Nobody talks about it !!
It's a hush-hush topic.
Except for 2-3 questions on Quora, I did not find anything on the net.
This is, when thousands of students face this situation every year.
My dear friend, if you are preparing for NID, I know you need to stay in a positive frame of mind.
Apologies for touching a negative topic, no intentions to demotivate you.
But, this is the reality……
For every student who makes to NID, thousands face rejection.
My sincere good wishes with you, but just one question……
Do you have a plan B ready?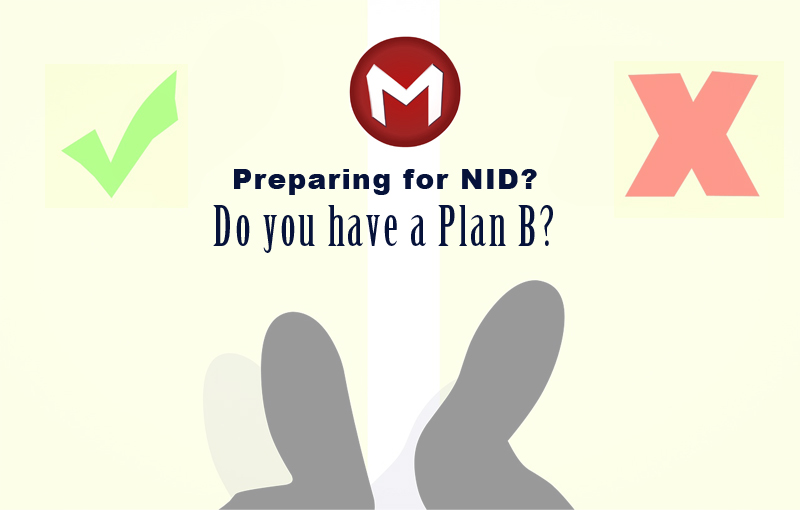 Every year thousands of students compete for NID B.Des & M.Des seats.
Apart from a few hundred, the rest face rejection.
Those who make it to the esteemed college, get all the limelight.
But what happens to the rest.
Are they not good enough to be a designer?
I felt the above pointers needed a voice.
So, thought of writing a detailed blogpost on the topic.
No Marketing, No Branding…….
Clear, honest advice from your Mentor……
Straight from the heart…….
A. What is my Plan B? What are my options?
Coming back to the dreaded question…..
"What if I don't make it to NID?"
Luckily you don't need to worry about it.
We all know of successful designers who have not attended any design school, maybe just started from a garage and have made it big in the design world……only due to their talent, hard work and determination.
Two big names…….Bill Gates and Steve Jobs were high school dropouts.
We all know how successful they were in their careers.
No, no…..don't get me wrong.
I am in no way undermining the importance of formal education, that too from one of the best institutes of the world.
But, just wish to stress on the fact that, "To be a successful designer, you need to understand design, and the talent that lies within you is what matters ultimately.
A good design college, experienced faculties and a structured course, go a long way in shaping your career.
But, one thing should be clear……….
No NID is not equal to No Design Career
There are a lot many reputed Design Institute's in India other than NID, which can be good options.
Here is a list of top 10 Design Institutes in India. Click for Top 60 Design Colleges in India
1. NID - National Institute of Design
2. NIFT - National Institute of Fashion Technology
3. MIT - Maeer's Institute of Technology
4. SRISHTI School of Art, Design & Technology, Banglore
5. IIT - Indian Institute of Technology (Department of Design) Guwahati
6. IIT - Indian Institute of Technology (Industrial Design Centre) Mumbai
7. DJ Academy of Design, Coimbatore
8. Pearl Academy of Fashion
9. SOFT - School of Fashion Technology
10. Symbiosis Institute of Design
B. Should I try for NID again next year?
Most of the NID B.Des aspirants make first attempt along with 12th boards.
Some take a gap year, re-attempt, if they don't make it the first time.
Students take a drop assuming they have all the time for the preparations. They don't take admission in any college/university.
Though there is nothing wrong in the above strategy, I've seen it failing miserably, because of the following reasons:
The student initially takes it easy assuming the preparations can be done later. So much time at hand without discipline, focus & proper routine does not serve any purpose.
When they see their peers & friends taking admission in various colleges/universities and moving on with their academic careers, they mentally feel they have lagged behind, which is a big de-motivator.
As the exam draws near, the pressure to perform rises. Parental & Societal expectations further add to the woes. The fear of facing rejection one more time is huge.
In light of the above situations, the student scores even less marks than the preceding year.
And the story ends in a heart break.
I'm not advocating against a drop year, but to attain positive results one must have a proper strategy in place and a determined will to execute it.
C. Are you worrying too much about the streams to choose?
In the last 15 years of my teaching career, I've seen many Design Aspirants pondering over one question:
"Which design stream should I choose?"
"Which one has the best potential?"
In most of the cases, students have gone through a career aptitude tests and the results have been in favor of design discipline.
But design education offers many sub streams like Interior Design, Fashion Design etc.
NID offers 19 design disciplines for M.Des program and 8 for B.Des program.
As the students feel inclined towards more than one field of design, the confusion arises.
My sincere advice in this case:
It is difficult at the preparation stage to fully ascertain, which design discipline is good for you.
If you are good in one discipline, it is very much expected that you might be good at others too. It is very unlikely to find a designer doing well in one stream like animation design but not in the others, maybe graphics.
Design is not something that can be compiled in study books. It's more of an endless self-exploring journey. A designer may have reached worldly success but inside he/she might feel, as if the journey has just began. I have seen students switching streams from UG to PG courses and mostly it is possible to switch streams. For example, one of my friends chose Toy Design for Masters after pursuing a Bachelors in Architecture Degree. Another one switched to UX/UI after doing B.Des in Interior Design. But in some streams, this possibility might be difficult and not allowed by many colleges. For example, if you wish to pursue M.Des in Transportation Design, then there are certain pre-requisites to apply and not open for all aspirants.
The more you explore and work in various disciplines, the more you understand what your inclination is towards and what you excel at. This is the very reason why majority of design institutes have a foundation year where they introduce the students to fundamentals of design, and observe where their true strengths lie. Accordingly the students are provided with the discipline they most resonate with, from second year onwards.
Don't go after a discipline that looks cool or the one that offers the highest paying jobs. Go for something where you can give your best and do 100% justice to the chosen field. You might anyways find good earning opportunities, if you are good with your work.
If you still have 3-4 years at hand, before you apply for NID, you can give a try to the following:
Start reading books on various design disciplines and about designers who have made it big in their respective fields.
Attend some online courses in your niche.
If you can find people around you who are studying or working in your chosen discipline, try to meet them and learn more about their work. Have a look at their portfolio and talk to them about their work responsibilities. This will help get better understanding about your chosen niche.
Browse and network on online design portfolio websites like Behance and Coroflot.
D. Why I did not crack NID?
The real reason……….
It might be that you are choosing design for the wrong reasons.
It makes me sound old, but the truth is that I've been in the design education industry for more than 15 years.
And I've seen some real misfits.
Don't aspire to be a designer because:
Your parents want you to be a designer
You wish to support your siblings in the family business
Being a designer sounds cool and you wish to impress your friends & relatives.
Only choose design because……..
It is your inner calling. Behind all the glamour and limelight lies a lot of hardwork, talent & dedication.
Most of the design projects at college level are practical where the students have to use their creative & problem solving skills to gain credits to move to the next level.
There are very few theory subjects and equally few guide books available. Even most of the exams are practical.
If you are not cut out for the field, it will be difficult to survive a few semesters in college.
So, make sure you choose design for the right reasons.
And don't worry. If you don't make it to NID.
The sky is the limit for the talented.
Still have doubts?
Ask in the comments below.
Or shoot a question in the Forum
Good Luck!!

Back
---
Related Posts
---
Comments ( 0 )
Post comment
Login to create a comment